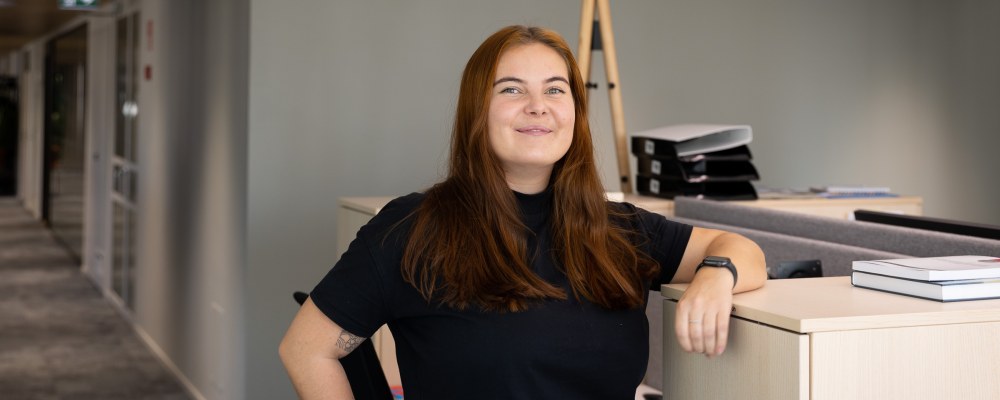 When the Academic Engineers and Architects in Finland TEK hired her to write an Equality Guide for student organizations, Sofia Saarinen decided that her goal would be to provoke thoughts. Equality means that all people are equal regardless of their gender, age or sexual orientation, for example.
"I have no authority to tell students to do this or that. Instead, I can help students change their thought patterns. One student thanked me for making them think. That was the best feedback I could receive for my work," says Saarinen.
The guide compiled by Saarinen provides concrete tips for building a more equal student culture, but it also has something to offer for working life.
"For instance, the guide provides guidelines for addressing harassment and inappropriate treatment. Anyone can apply these guidelines in their everyday lives."
The guide also contains a summary, the Six Golden Rules for Equality, which could even be used as a wall poster. Saarinen describes the rules as equality 101. The six rules are: respect others, treat others as equals, listen and learn, encourage and contribute to an open atmosphere, recognize and address discrimination and apologize. Read more about the rules here.
"I would underline the importance of "listen and learn", in particular. It's okay to ask and be wrong. After all, we're all people who make mistakes. But if you've done something wrong, it's your responsibility to learn from it, to admit that you were wrong and to apologize," says Saarinen.
The equality guide provides guidelines for various situations, checklists for e.g. event organizers, research knowledge on equality and a glossary of equality terms.
"I hope that anyone browsing the guide would at least understand the power of leading by example."
According to Saarinen, first-year students tend to follow the example of older students, tutors and board members when it comes to behavior at sitsi events and in student culture in general. The same applies to employees and CEOs and other people in prominent positions in work life. Saarinen believes that people in a position of authority are responsible for leading others by setting an example and treating others equally.
"Understand your power and your responsibility, for example in the way you use language. People rarely act like jerks towards each other on purpose. But language changes constantly, and you may end up using offensive language even without knowing it. For example, using the N-word, even as a joke, is never okay."
"I hope that anyone browsing the guide would at least understand the power of leading by example."
- Sofia Saarinen
Another example given by Saarinen concerns the announcement of a special family occasion at work. If a person assumed to be female announces their engagement to their partner, their colleague or a friend from school may congratulate them and ask when they and their husband plan on getting married. This happens regardless of what gender their partner actually is.
"Stereotypes feel oppressive and create this feeling of not belonging to those who do not feel they fit in the mold they are given."
"I want to leave a mark on the world"
In fall 2022, TEK started working on an equality guide as a response to the results of a study by Antti Ilmavirta. In his master's thesis written for TEK, Ilmavirta found that student organizations have a need and a will to build a more equal student culture.
TEK hired Sofia Saarinen, a student of special education at the University of Turku, to write the guide. She was interested in education policy and the promotion of equality. Saarinen believes that special education is about equality skills. Among other things, it is about understanding the limitations of disabled people and protecting the interests of various minorities.
"I have now been dating a woman for almost four years. This has made me think more about minorities than before. I want to leave a mark on this world and to do work with a purpose."
And that is how Saarinen saw the writing of this guide. With the guide, she can contribute to students feeling better as a result of being able to be themselves in the student community. Students will also shape the working life and culture of the future, so supporting their equality skills is important in this respect as well.
The project was completed in spring 2023 when the equality guide was published on TEK's website and Saarinen completed her tour of campuses. She visited the campuses of universities of technology in Turku, Otaniemi, Lappeenranta, Tampere, Vaasa and Oulu. Together with TEK's student liaisons, she led workshops for the active members of local student organizations.
"My visits to Lappeenranta and Oulu were particularly memorable. The discussion in the workshops continued even overtime!"
Saarinen believes that equality means giving opportunities to others. If, for example, a student organization wants to organize a sauna evening that is equal for everyone, it should not pass the responsibility to the people who belong to minorities and leave it up to them to come up with solutions. It is better if the organization first suggests how the event could be organized and then discusses this suggestion with the people who belong to minorities.
"It is up to the majority to modify the culture so that everyone's voice gets heard and everyone has an equal opportunity to participate."