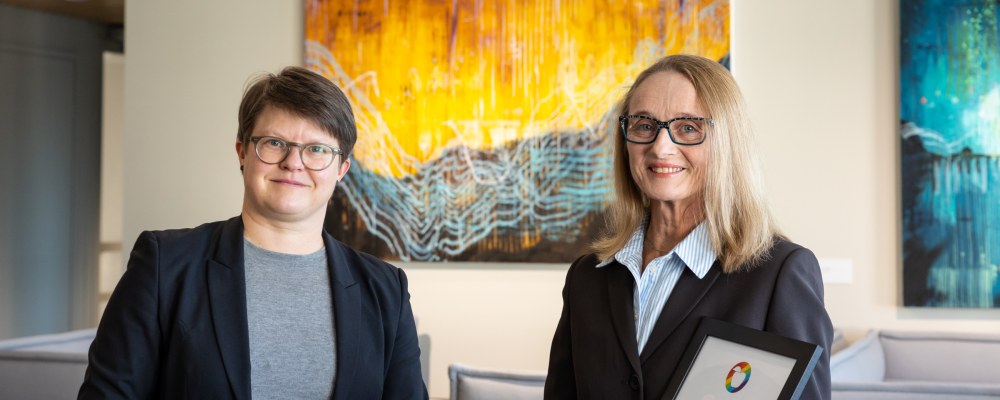 Seta – LGBT Rights in Finland has granted the Apple of Good Information 2022 to the Academic Engineers and Architects in Finland TEK. The recognition was received last week by Work Life Specialist Sirkku Pohja (in the photo, right). It was presented by Secretary General of Seta Kerttu Tarjamo (in the photo, left) at TEK's office in Pasila.
LGBTQI+ people are invisible in many workplaces and particularly in male-dominated fields of technology, in which the Academic Engineers and Architects in Finland TEK also operates. Seta finds it highly commendable that the organization has set out to systematically raise the visibility of LGBTQI+ people and promote equality.
– Among other things, TEK has published tips on how to be an LGBTQI+ ally and how to be inclusive of LGBTQI+ employees. TEK has also trained shop stewards and given LGBTQI+ people more visibility and space. In 2021, the organization's Student Survey examined the discrimination of LGBTQI+ people as well, says Kerttu Tarjamo, giving reasons for the choice.
Having worked with equality, diversity and inclusion issues for two decades, Sirkku Pohja notes that equality is progressing, but progress is incredibly slow. Many workplaces are under the impression that equality and equity have already been achieved or that there is no need to revise the Equality Plan once it has been approved.
– Equality talk and actions are today's hot topics and tomorrow's work life skills. We just hired a project worker at TEK to work on an equality guide for student organizations. In early autumn, we set up an online equality training package for our employees to complete independently. Next year, we will be conducting an equality and equity training course for employee representatives who are TEK members, she says.
TEK's CEO Jari Jokinen says that the TEK community greatly appreciates the honour. Promoting equality requires constant efforts.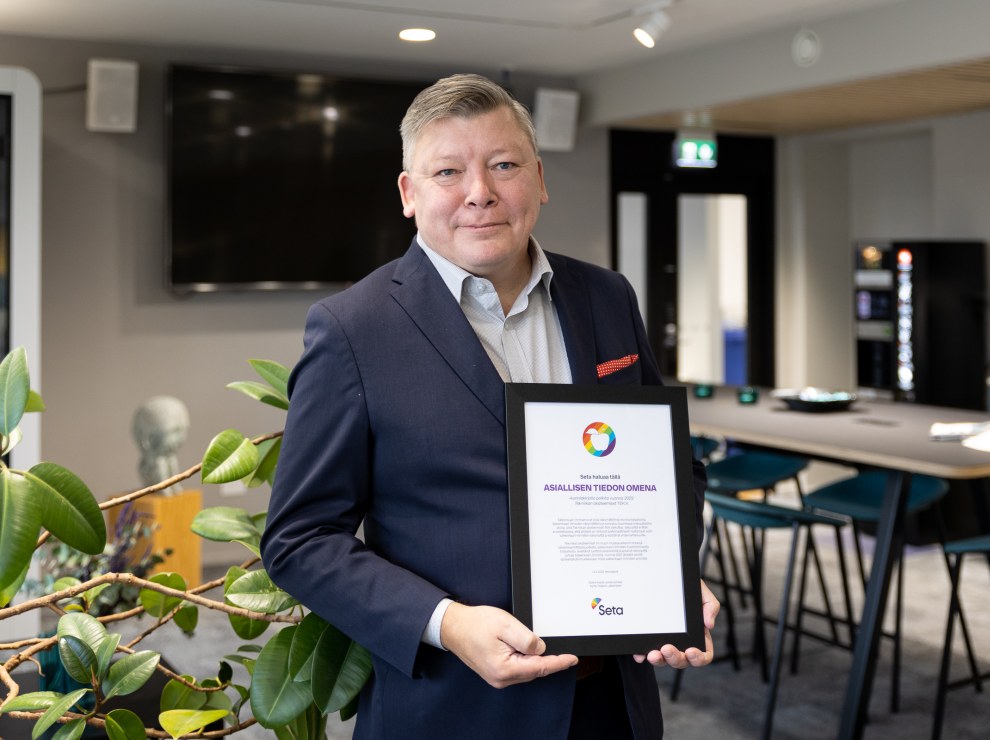 – We have worked systematically on behalf of equality and equity, but this is just the beginning of the journey. It is important for us to see everyone included in the workplace as equal members of the community. We want to continue pursuing this goal in the future, both in our members' professional communities and among everyone studying or working in the field of technology, Jokinen says.
 
According to a study on work life, young people are open about their identity during studies, but end up going back in the closet when they start their first job. According to TEK's own survey, 24% of LGBTQI+ men and 51% of LGBTQI+ women fear they will face discrimination in their career; this figure was up to 66% among non-binary respondents.
– The notion of who is suitable to work in the field and whose abilities are credible is often narrow in the technology industry. Not fitting in the mould can cause stress. It takes energy to have to think about where and when it is safe to be open about your minority status. If you can be yourself in your professional community without fear of discrimination, you can focus this energy on the work itself, says TEK's Research Manager Susanna Bairoh.
– Young people are much bolder and more open. They will not enjoy working in their job if things do not change. The prevailing attitudes in workplaces need a good airing. Shop stewards are the key to this process as their role allows them to address issues and promote equality in practice. We, the trade unions, are there to support the shop stewards, we provide training and advice. Together, we will create a better work life for everyone, and always side with the weaker, says Pohja.