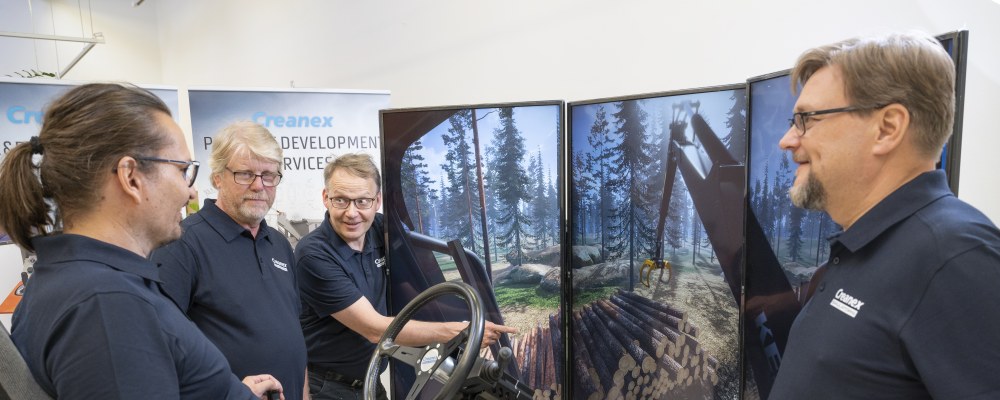 At the end of November, Academic Engineers and Architects in Finland TEK and Tekniska Föreningen i Finland TFiF will give an award worth 30,000 euros to a work group for their significant contribution to technological expertise in Finland. The four finalists have developed a rapid test for COVID-19, made sound visible, created an innovation for paper machines and developed simulator technology for work machinery. 
The Finnish Engineering Award is an award for the people behind the technology. TEK and TFiF have been giving the award since 1980. Read more about the award here.
– Recognizing and highlighting the people behind Finnish engineering is a matter of honour for us. High-quality, innovative engineering is an essential prerequisite for our welfare society, says TEK's CEO Jari Jokinen.
Anyone could nominate candidates for the award. TEK's Technology Committee narrowed down the candidates to four finalists. The winner will be decided by the boards of TEK and TFiF.
– This year's chosen finalists demonstrate the breadth of innovations and problem-solving in technology. The finalists provide solutions for both immediate and long-term challenges, says TFiF's CEO Annika Nylander.
Finalists for the Finnish Engineering Award 2022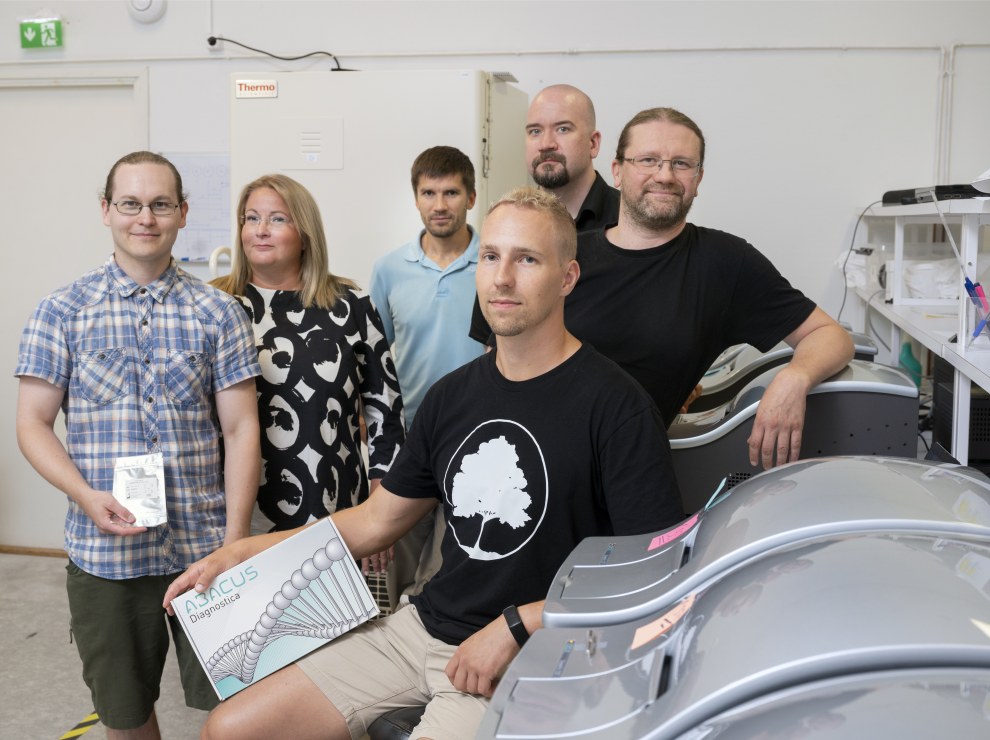 Finalist 1: GenomEra
Over the past few years, Turku-based Abacus Diagnostica has focused on developing and manufacturing rapid PCR COVID-19 tests for laboratories and hospitals. Named GenomEra, the PCR test system for infectious diseases, such as COVID-19, does not require cleanrooms, specially trained personnel or long wait times. The results of a GenomEra test are ready automatically in about one hour.
Photo: members of the team at GenomEra. Production Manager, M.Sc. Tommi Alanko (pictured left), Director of System Development and IPR, PhD Piia von Lode, CEO, M.Sc. Erno Sundberg, R&D Project Manager, M.Sc. Jiri Vainio, Research Manager, M.A. Antti-Heikki Tapio and Device and Software Manager, PhD Janne Holopainen. Missing from the picture is Production and Laboratory Technician Tiina Parviainen.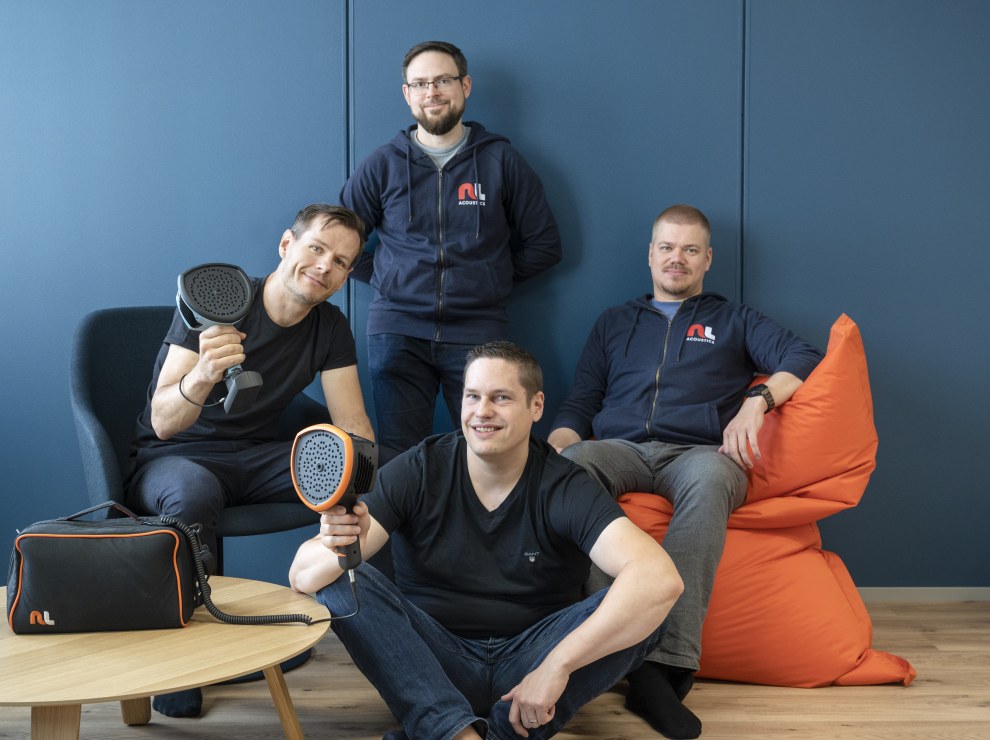 Finalist 2: NL Camera
The acoustic camera developed by Noiseless Acoustics from Helsinki uses sound and ultrasound signals picked up by its 124 microphones to calculate and form an image on its screen that shows the direction of the sound sources to the user in real time. Clients use the NL Camera to detect electrical faults, locate air and gas leaks and estimate leak size, for example in their plants and refineries.
Photo: the team behind the NL Camera. CEO, M.Sc. Kai Saksela (pictured left), Lead Research Engineer, D.Sc. Robert Albrecht (behind), CTO, M.Sc. Jonas Nyberg (front) and Lead Electronics Design Engineer, M.Sc. Manu Niukkanen.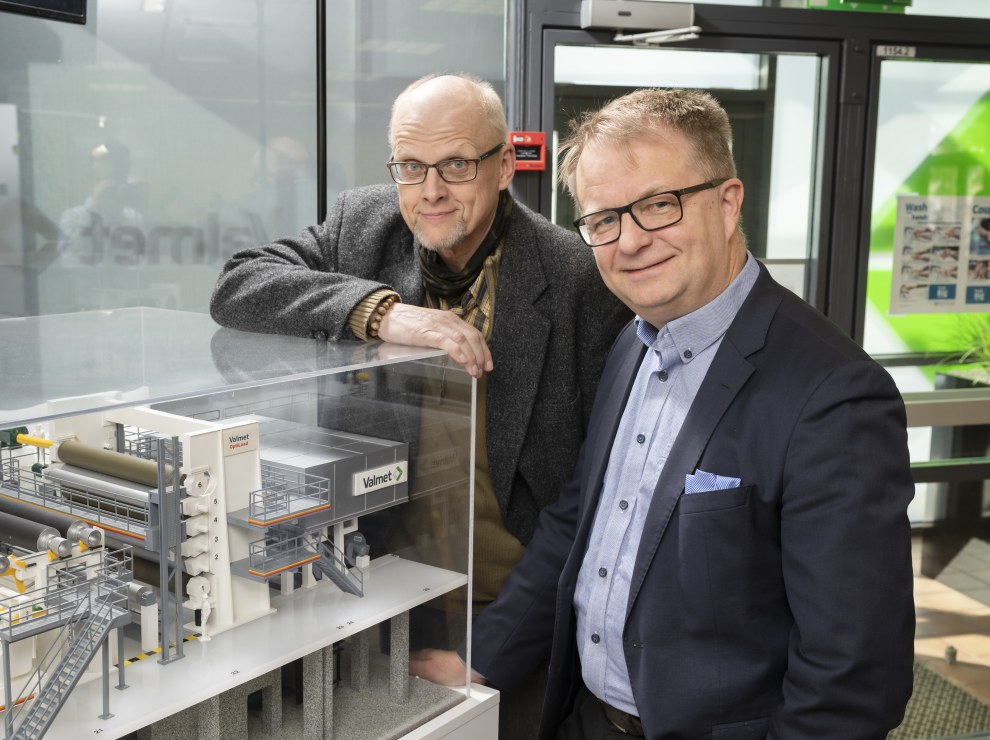 Finalist 3: OptiCalender Multinip
In the early 1990s, a master's thesis was completed at a Valmet mill that would revolutionize the calendering technology used in magazine paper machines. Created by Juha Lipponen (right) and Pekka Koivukunnas (left), the patented invention makes it possible to load all the nips in the multinip calender of a magazine paper machine with the same load. Technology company Valmet has sold an estimated one billion euros worth of calenders.
Photo: the inventors of OptiCalender Multinip. Innovation Specialist at Elomatic, M.Sc. Pekka Koivukunnas (pictured left) and Professor of Practice at Aalto University, D.Sc. Juha Lipponen with a scale model of a paper machine that utilizes the invention in Valmet's lobby in Järvenpää.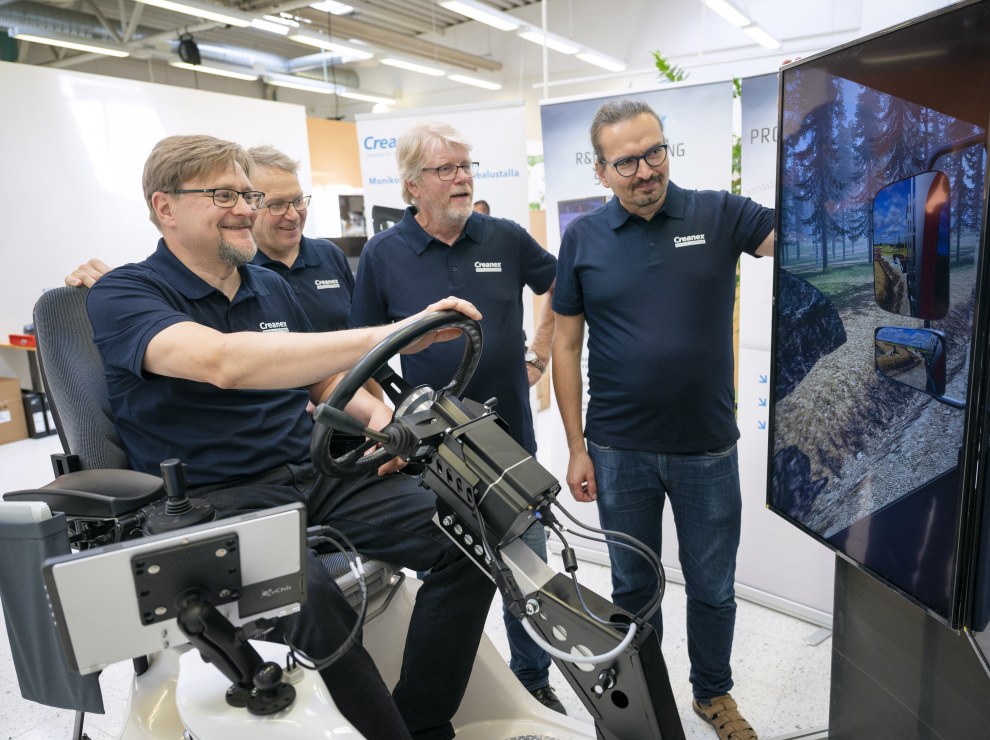 Finalist 4: Simulator technology
Tampere-based Creanex has developed a simulator that trains people to operate forest and mining machines or drive a full trailer combination or a tram, for instance. Creanex specializes in simulators where the controls are identical to real work machines or vehicles. Creanex has so far delivered more than 600 training and product development simulators around the world.
Photo: developers of the simulator technology. R&D Manager, M.Sc. Timo Mustonen (pictured left), CEO, M.Sc. Markku Pusenius, Chief Engineer, B.Sc. Harri Niemi and Production Development Engineer, B.Sc. Juha Silen. Missing from the picture is Product Development Engineer, B.Sc. Jukka-Pekka Rajala.