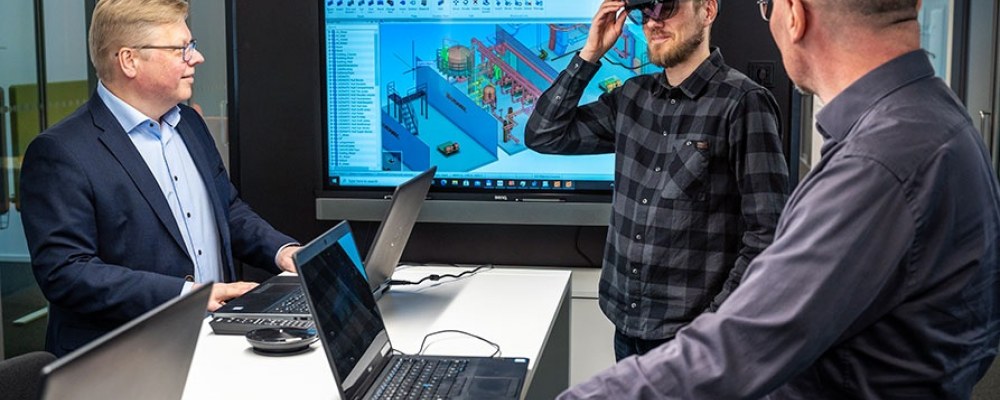 Jukka Rantala, CEO of software house Cadmatic, believes that growth is not possible without skilled people. That is why the company cooperates with universities.
– It is great to know that while we are making the operations of our customers more efficient, we are also helping people increase the quality of their lives. We automate routine tasks to allow people to focus on the innovative work, says Jukka Rantala, CEO of software house Cadmatic.  
He believes that growth is impossible without expert personnel. This is why the company engages in cooperation with universities.
– Growth does not solely mean increasing sales, but also the growth of personnel. We need responsible people with the potential to develop their expertise in product development, customer service, sales, management and international business, Rantala says.
Cadmatic already is an internationally successful developer of design and information software for the shipping and process industries. Rantala is looking for robust growth especially in the international marketplace of plant design software and the company's new venture into the construction industry.
We strive to offer summer jobs and thesis positions for students of the field.
– This is why education and cooperation with universities is of crucial importance to us. We strive to offer summer jobs and thesis positions for students of the field to entice them to become our employees in the future. 
Cadmatic offers its 3D-based design software suites to students free of charge. Cadmatic's software is in use in many universities of technology, for example.
– When young people use our software in their university assignments, they are familiarised with the tools of the industry. Once they graduate this helps them gain employment with us or with our customers.
Cadmatic is a global operator. 75–95 % of its turnover is international. The company has over 6 000 customer organisations in 60 different countries. Offices Cadmatic has in 17 different countries.
– Our product is for a relatively narrow market niche, but our operations are global, Rantala says to sum up.
Cadmatic was created when the employees of engineering office Elomatic began developing a computer-assisted design system for in-house use in the mid 1980s. Elomatic's clients grew interested in the software and Cadmatic was incorporated in the early 1990s. The company grew organically until 2015 when it acquired its Dutch partner and its operations doubled. A couple of years ago Cadmatic acquired the Finnish software company Kymdata Oy, which added electrical wiring design software to the company portfolio. 
Cadmatic
CEO: Jukka Rantala
Turnover: €26 million
Business result: €5.7 million
Ownership: Elomatic 53 %, Mandatum Life 17 %, remaining 30 % owned by company management and personnel
Based in: Turku
Number of employees: 240, + 10 summer employees
Founded: 1992
Customers: Meyer Group, Sitowise, Italian energy company ENI
This article is part of TEK's 125 year anniversary series, where we present Finnish companies that advance sustainability in their operations. Check out all of the articles.