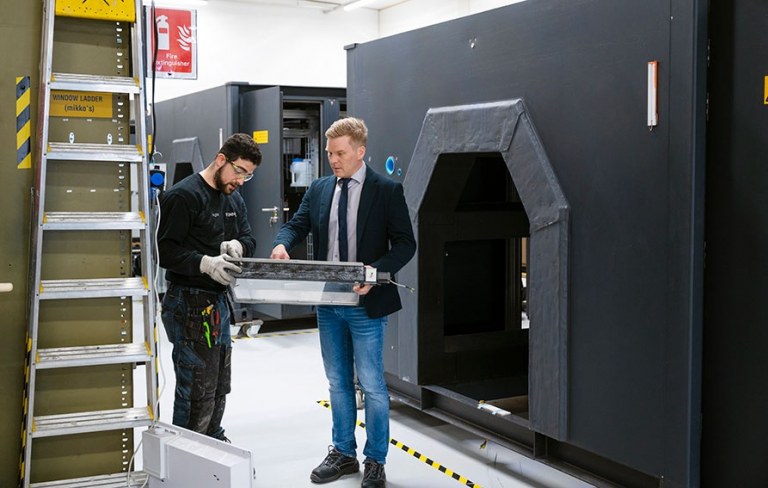 Finnos from Lappeenranta is modernizing the traditional sawmill industry one log at a time. Finnos' team brings artificial intelligence to the sawmills.
When Jere Heikkinen learned that business premises were freeing up in Lappeenranta's Tukkikatu (Log street), he immediately seized the opportunity. What could be a more fitting location for Finnos, the world's leading log X-ray manufacturer, the CEO thought with a chuckle.
Finnos was born when the founder of Bintec, a pioneering company in the field of X-ray technology in the sawmill industry, retired and the business operations were bought by its personnel. The role of CEO fell on Heikkinen, an academic engineer who majored in applied and theoretical mathematics.
– Which was fine. I am adaptable and easily bored. This job provides plenty of variety and keeps me busy, he says.
Heikkinen's team swept the slate clean and began R&D efforts. In five years the startup from Lappeenranta has made huge strides. Now over 60 % of all sawmill raw materials in Finland are ran through Finnos' FUSION log scanners.
As a log moves forward inside a sawmill, the 17 different cameras of Finnos' scanner pick up over 100 parameters off it in under half a second. The log scanner "sees" through the log using X-ray and laser technologies, which allows the log to be sorted by size and internal quality.
According to Heikkinen, quality information is crucial. A poorly sawed log is only usable as pulp or fuel, which dramatically reduces its value. 
Reduced wastage is also good news for the environment.
– This is the basis for the usefulness of our scanner: when a log is sorted properly, it becomes the most profitable end product that could be made from it.
At a mid-sized sawmill the generated added value is a few euros per a cubic metre of raw material. Reduced wastage is also good news for the environment.
According to Heikkinen the Finnish sawmill industry has already formed a "Finnos standard". 
Some 80 % of Finnos' turnover seems to be coming from abroad this year, Heikkinen says. There's a sizeable domestic market as well.
– We are fitting Metsä Fibre's sawmill in Rauma with an AI-based system that continuously optimises the sawing process.
COVID-19 had its toll on Finnos as well as and the company's installation jobs ground to a halt for almost six months. The organisation used the time to focus on developing new products. Then people began to renovate their homes, creating a renovation boon.
– The sawmill industry bounced back. Now sawmills finally have the opportunity to catch up on their investments. We will be very busy indeed! 
Finnos
CEO: Jere Heikkinen
Turnover: €8 million (estimate for 2021)
Business result: profitable
Ownership: over 60 % with management and personnel, the rest is owned by the board.
Based in: Lappeenranta
Number of employees: 41 in Finland, 57 overall, recruiting continuously 
Founded: 2016
Customers: Metsä Fibre, Stora Enso, UPM, Versowood 
This article is part of TEK's 125 year anniversary series, where we present Finnish companies that advance sustainability in their operations. Check out all of the articles.