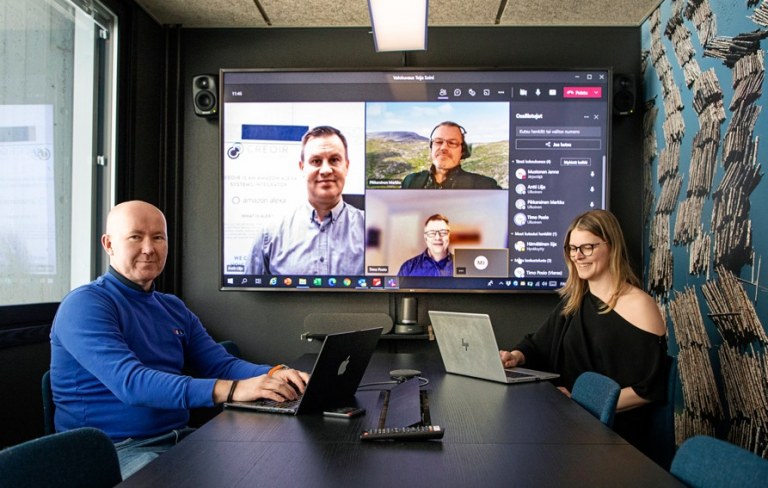 The automotive industry cluster in Oulu strives to solve customers' problems through cooperation. Ecosystems and clusters change the way work is done.
TactoTek's Research Director Pälvi Apilo remains quiet for a spell.  She's pondering the question: "Who do you consider your coworkers?"
– That's a good question. I don't only think I work with people from TactoTek. Yes, I consider everyone in this international community to be my coworkers.
TactoTek is a company from Oulunsalo specializing in electronics molded inside plastic. Apilo is responsible for TactoTek's internal and external research projects. She works together with researchers from the VTT Technical Research Centre, the University of Oulu and the Oulu University of Applied Sciences and professionals from many Finnish and international companies.
TactoTek is active in two corporate clusters that reach out into the world from Oulu. The Printocent cluster consists of companies and organisations involved in printed electronics while the Automotive cluster contains companies and organisations in the automotive industry.
So there were many reasons why Apilo initially found the question so difficult. She is by far not the only one in Oulu with coworkers from outside one's own company.
Business secrets move between companies
Bittium is an active participant in the Automotive cluster and based on the description given by its Sales Director Markku Pikkarinen, the work community is redefining the traditional notion of coworker.
– A project may have a team with people from ten different companies creating a solution for the same client. Relevant matters can be discussed within the team, but we cannot discuss the details of the project at our own companies. 
BusinessOulu, an organisation in charge of Oulu's industrial policy, leads the Automotive cluster. The cluster was established in 2018 and some 150 companies from all over Finland are involved in its operations.
The idea of the cluster is simple: when multiple companies know each other's strengths and specialities, they can come together to solve larger challenges.
– The total offering of multiple companies often forms a unique whole. This means it is more difficult to copy, says BusinessOulu's Key Account Director for ICT Janne Mustonen, who was also involved in the founding of the cluster.
The Origo concept steering wheel is a brilliant example
Creoir is a company that develops voice steering technology and its CEO Antti Lilja considers the Origo concept steering wheel – last year's recipient of the German Design Award – as a great example of the cooperation enabled by the cluster.
The steering wheel allows easy and natural control of the car's various systems without having to take one's hands off the wheel. The development of the steering wheel involved software house Siili and TactoTek from Oulu and technology company Canatu and software company Rightware from the Helsinki region.
Siili designs and realises digital instrumentation solutions and infotainment systems for the automotive industry. Business Development Manager Timo Posio says that Siili is a pure software and services house.
– We do not make any physical products. The power of the cluster lies in how it can bring together different expertise and technologies.
Historical reasons are at play in Oulu
The Automotive cluster was founded because there were companies in Oulu serving customers in the automotive industry. Or that was actually just one of the reasons.
BusinessOulu's Janne Mustonen says that a more significant reason was that Oulu had the kind of expertise that was expected to be of interest to the transforming automotive industry.
This transformation is illustrated well by the story of Elektrobit. The company sold its automotive functions to tire manufacturer Continental in 2015. The Bittium that remained focused on secure phones and remote monitoring solutions.
According to Bittium's Markku Pikkarainen, the company has been creating solutions for the remote monitoring and updating of devices for industrial and military use for years.
A few years ago Bittium's prohibition of competition as a supplier of the automotive industry expired, and Bittium could once more offer its solutions to the industry.
The timing proved excellent.
The automotive industry will begin to manufacture software-based vehicles. This is a foundational shift.
– The automotive industry was inching towards declaring that it would begin to manufacture software-based vehicles. This is a foundational shift for the industry.
It means that the automotive industry will be looking for different ICT solutions, remote monitoring products, user interfaces and self-driving cars. This is exactly the kind of expertise Oulu can offer.
Openness is an asset
Everyone we interviewed praised how they can openly discuss the needs of the automotive industry with the companies in the cluster without having to disclose their client secrets.
However, Creoir's Lilja, a veteran of the ICT sector with over 20 years under his belt, thinks that this openness is a relatively new phenomenon. Lilja believes that during the time when Nokia's mobile phones were at their most successful, the atmosphere was not very open. 
– I spent 15 years with Nokia and only when we founded our company in 2012 did I come to realize that Nokia operated in a kind of cliquey way. Cooperation was not easy in those days. 
Now Lilja thinks that the situation has changed.
– It feels like the atmosphere in Oulu has gone through a radical shift over the last decade.
Lilja says that at least in their company they have a habit of directing clients to other companies if they cannot help them solve their problem themselves.
For his part, Bittium's Pikkarainen says that they tend to consider deeply what the client's problem actually is. This can reveal that they could provide a much more comprehensive solution if they worked together with another company.
– Maybe it is the Finnish way of doing things that we genuinely strive to look at the client's needs from the big-picture perspective.
A Chinese concept car helps a lot
Many car manufacturers have also noticed Oulu's strengths. Technology from Oulu has found its way into numerous cars made by European manufacturers.
The research company Cevt, which is owned by the Chinese car manufacturer Zhejiang Geely that operates from Gothenburg, delivered a concept car to Oulu last year. This car allows the VTT, educational institutions and companies to develop and test new technologies.
Siili's Timo Posio does not believe the automotive industry would be showing this kind of trust in the Oulu region if the area did not have technology expertise it finds interesting. As one spearhead technology, Posio points out TactoTek's ability to place electronics inside plastic parts.
TactoTek's Pälvi Alpilo says that the technology developed and patented by the company enables significantly more compact functionalities, simpler assembly and lower carbon dioxide emissions.
The technology enables new kind of design solutions for car interiors, for example. Apilo estimates that we will first see their parts in production cars in 2023 at the earliest.
The automotive industry would not be showing this kind of trust in the Oulu region if the area did not have technology expertise it finds interesting.
Apilo considers it important that the company has access to the concept car, as it allows them to brainstorm about what driving and travelling might mean in the future.
Cooperation and interaction are also in the heart of the idea of the cluster, Apilo thinks.
– We cannot simply keep developing our own in-house technology with blinders on. We must be creating inspiring solutions for drivers together with car manufacturers and other technology companies.
It would seem that Oulu has come together to disprove a certain mathematical truth. 1+1 does not equal 2, but something more. 
How much more? Only the future will tell.
These are the factors behind the shift in the automotive industry
Software. As it stands, not all cars made in the past few years allow software updates. This is why you cannot turn the car's heating on with a phone even if it were possible with newer models. This is the reason why Volkswagen had to recall some 11 million cars because it was forced to update its software after the emissions scandal. Tesla's cars, on the other hand, allow new software updates even for older models, which means that the self-driving technology does not become dated but instead improves over time. 
Data communications. Passengers may want to watch streaming services or play games. The car wants to download the latest information on traffic disturbances and flow.
Self-steering. Extensive implementation of the technology requires that data is transferred between cars so that they can communicate with each other quickly. 6G technology is likely the key to this. Safe and secure transfer and management of the data will become a new challenge for the sector.
Mobility as a Service (MaaS). In the future people will no longer want to own their own car, especially in major cities. They want to move from point A to point B as effortlessly as possible. This means that the brand or design of the car are no longer interesting, because the method of transportation is largely decided by an algorithm. It also greatly changes what kind of cars companies should design for this kind of market. Current cars that are suited for various kinds of use may be replaced by cars designed specifically for such a purpose.
Electrification. The use of fossil fuels must be abandoned. At the moment, electric cars seem to be the strongest contender to replace cars powered by combustion engines. Innovations in battery and recharging technologies are constantly multiplying.
Revolution of production. The design teams of car manufacturers are faced with many new challenges that they have no experience in. This increases their interest in cooperation tremendously and their new partners have the opportunity to land major orders. Because many of the technologies are digital or capable of being licensed, traditional subcontracting chains are facing a total overhaul.