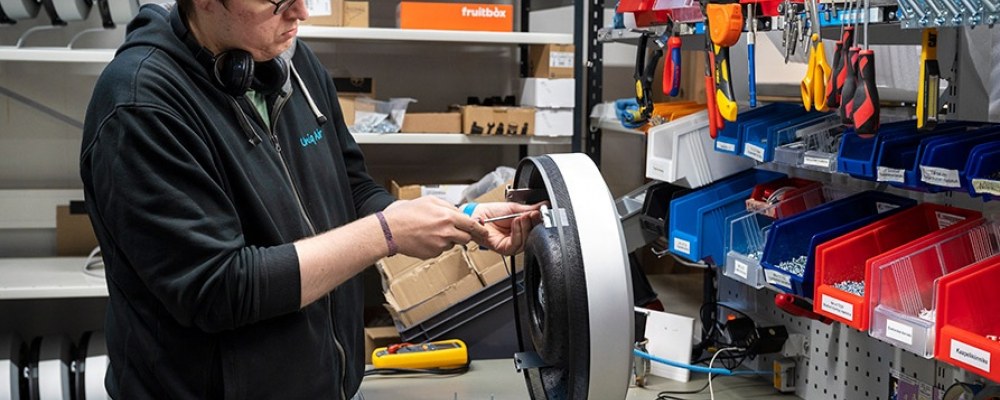 Unlike for many others, the pandemic was a surprising lucky break for UniqAir from Lappeenranta.
UniqAir manufactures air purifiers for use in schools, health care centres, etc. Because of the coronavirus situation more people began to pay attention to the indoor air quality in their homes, offices or business premises. 
– The best thing is that our business operations improve the health and well-being of people. We have team spirit and it is fun to go to work in the mornings, says CEO Panu Riikonen. 
– We have also delivered devices to the customer service facilities of companies. We have also gained new customer groups, including pharmacies and restaurants. We count Naughty Burger and Henri Alén's restaurants among our customers.
COVID-19 has turned the air purifier market into a wild west, according to Riikonen. Some air purifiers produce ozone or oxidizing radicals into the air. Both of these are harmful to humans. 
– All of our products are tested by the VTT Technical Research Centre and analysed by the Institute of Occupational Health. The passive purifying method used in our devices is based on activated carbon technology that removes hazardous gases from the air without adding anything to it.
What we are developing and why we are developing it, that is what matters to me.
Even though the COVID-19 exit is in sight, indoor air quality problems will not be going away. High indoor air quality can even reduce the number of sickness absences at workplaces.
Leader of UniqAir's product development team Esa Malinen is working to develop AI in air purifiers. The AI allows the purifier to monitor its own operations and tell humans when it needs a new filter.
UniqAir is also kept busy by the opening of new international markets. The company is in the process of founding a new subsidiary in Germany and its network reaches from Canada to Japan and the Middle East. 
UniqAir's production, product development and supportive functions (excluding regional sales) will remain in Lappeenranta. The company aims to keep hiring experts educated at the Lappeenranta University of Technology.
– I am excited about product development and the furthering of AI technology. What we are developing and why we are developing it, that is what matters to me. The crew is great and my work tasks are interesting, says Malinen, a LUT alumni himself.
UniqAir
CEO: Panu Riikonen
Turnover: €3.5 million (2020)
Business result: profitable since founding
Ownership: Sontek Invest Oy 78 %, active management 22 %
Based in: Lappeenranta
Number of employees: 19 in Finland, 5 abroad
Founded: 2014
Customers: offices, customer service spaces, schools, health care, households
This article is part of TEK's 125 year anniversary series, where we present Finnish companies that advance sustainability in their operations. Check out all of the articles.