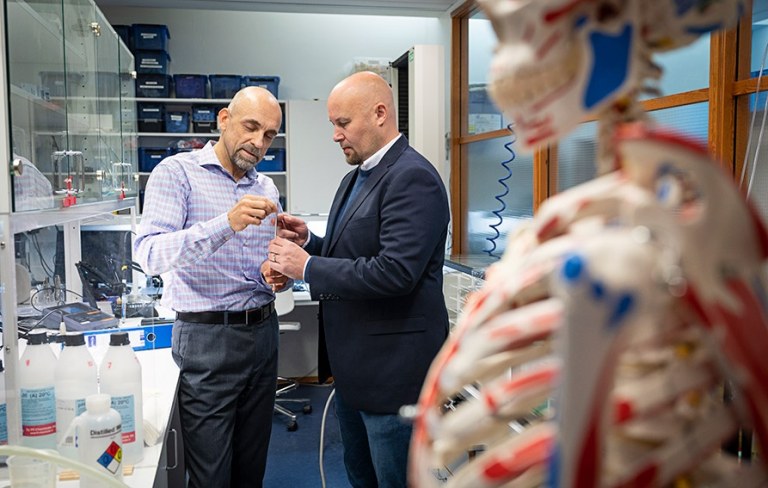 The product of Tampere-based Bioretec treat broken bones and make life easier especially for child patients.
Timo Lehtonen and Kimmo Lähteenkorva enjoy working for Bioretec because the company's biodegradable implants improve the health and well-being of children especially.
– Regular metallic implants, such as titanium screws and plates, are often removed with a separate procedure, especially in pediatric surgery. This creates unnecessary suffering as well as health risks for patients and costs for health care providers, says Bioretec's CEO Timo Lehtonen.
– Adults break their bones when they do sports or slip and fall in the winter, for example. Children break their hands especially when they're bouncing on a trampoline, says Bioretec's CTO Kimmo Lähteenkorva.
When bone heals, biodegradable implants exit the body naturally and life quality is improved as there is no need for a follow-up surgery to remove them.
At the moment the company is developing magnesium-based products that will compete against regular metallic implants and expand the marketplace.
Bioretec's roots reach back to the 1970s when Pentti Törmälä, a professor at the University of Tampere, began research and product development in biodegradable polymeric implants.
– People are enthusiastic about making and developing Bioretec products, which is a joy to behold, says Lehtonen.
– In a small company one gets to witness the whole product development process from start to finish. Everyone knows each other well and plays for the same team, Lähteenkorva continues.
Finns are pioneers in the training of engineers for the biomaterials industry.
Biodegradability is tested by storing implants in fluids mimicking the fluids of the human body for at least 12 weeks.
– We also test our products on bones both mechanically and biomechanically using pig bones or artificial bones, for example. We also conduct biocompatibility tests with human or animal cells, Lähteenkorva says.
In times of corona, laboratory work is carefully planned out. A maximum of two people may be present in the laboratory at once and they must wear masks.
– COVID-19 has strained health care services globally, reducing the number of many non-urgent surgeries, which has brought challenges to our operations. However, our production has been running well, says Lehtonen.
Despite being an international exporter, Bioretec wishes to keep its production and R&D in Tampere.
– Finns are pioneers in the training of engineers for the biomaterials industry, and the level of academic publications in the field is also high here, Lehtonen says.
Bioretec
CEO: Timo Lehtonen
Turnover: €1.5 million
Business result: -€1.9 million
Ownership: over 900 shareholders, including institutional investors and private companies
Based in: Tampere
Number of employees: 24 persons, 8 in production, 5 in quality assurance, 6 in product development and the rest in sales and management.
Founded: 1998, operations commenced 2003
Customers: hospitals and doctors, implants are supplied to some 40 countries in addition to Finland, including China, Taiwan, Italy, Spain and Russia.
This article is part of TEK's 125 year anniversary series, where we present Finnish companies that advance sustainability in their operations. Check out all of the articles.