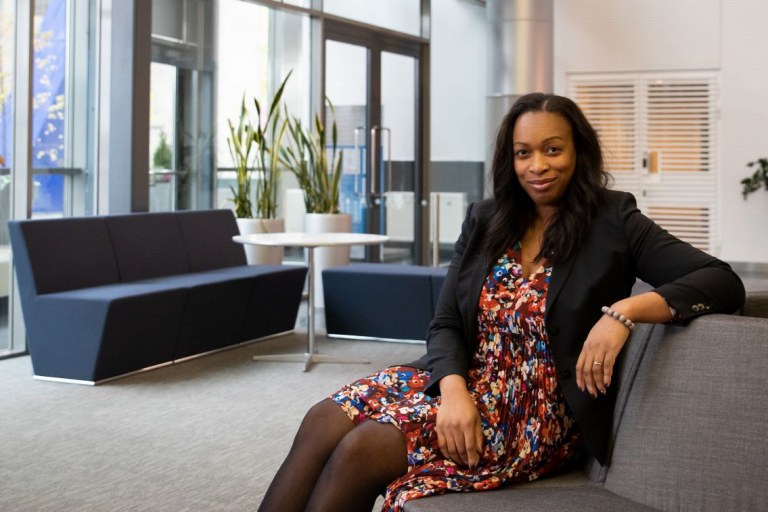 Uchenna Ikegwuonu ended up in the tech sector through many different twists and turns. She encourages women and people from different backgrounds to approach the field with an open mind.
– You must have the courage to enter the sector. However, it is equally important that the receiving end welcomes you.
This is how Uchenna Ikegwuonu describes her path to her current position as the Marketing Director of F-Secure. She considers herself a wild card that brings passion and diversity to the company. Throughout Ikegwuonu's studies and career, she has also been a focus of attention because of her ethnic background. She does not see her difference as a defining factor, but as a strength.
– My persona, my attitude and my expertise also differentiate me. I will not define myself solely through my gender or the colour of my skin.
Chance had a part to play in getting Ikegwuonu started in her studies at the Helsinki University of Technology (TKK, nowadays Aalto University). Her goal was to deepen her knowledge of physics so that she could apply to a faculty of medicine somewhere. She had not thought about a technology major because she had assumed that TKK only offered mathematical career paths.
– I found another kind of reality, a place where I could combine studies in chemical, electrical and industrial engineering into my degree. I was surprised by how adaptable the field of technology and the related studies could be.
In the end, Ikegwuonu decided to stay at TKK to study electrical and industrial engineering. It was the right decision.
– In Otaniemi I was not only fascinated by what I was studying but also by how much networking with different kinds of people taught me.
"You shouldn't take attitudes personally"
Ikegwuonu's father deserves some of the credit for getting her involved in technology. Her father, who arrived in Espoo from Nigeria, is a Doctor of Engineering and was a familiar sight in the lecture halls of Otaniemi in the 1970s.
He encouraged Uchenna to keep her mind open about technology. Her father's example has also been significant in a different way. As a dark-skinned person in 1970s Finland, he raised some eyebrows.
– My father has always said that you shouldn't take someone else's attitudes personally. They do not define who you are, and people do not always mean harm. Some may simply fear difference.
Even though I stood out from the crowd, I always felt that there was room for diversity at TKK.
– When I began my electrical engineering studies in 2004, there were a few dark-skinned women studying at Otaniemi. They were primarily exchange students. Even though I stood out from the crowd, I always felt that there was room for diversity at TKK. As a woman, I also felt that there was plenty of potential for learning in the male-dominated environment.
Ikegwuonu emphasises that even though she occasionally strives to understand prejudicial behaviour and people who hold prejudices, and she does not let them prevent her from progressing, she does not condone prejudice in any way. One should not be put into situations where they must constantly demonstrate their abilities and accept prejudices.
– I want youths from immigrant backgrounds to think that being admitted to Aalto University, for example, is in no way impossible for them. It is enough that you have the will and the readiness to work to achieve your goals.
Diversity of working life has taken a leap forward
Ikegwuonu's professional career in the tech sector began at ABB while she was still a student. She also completed her thesis for the company. After that, interest took her into IT. After Microsoft's career development programme and eight edifying years, Ikegwuonu found herself at F-Secure where she now leads a global marketing team.
– I find the management of change and building new things fascinating. Already during my tech studies, I especially enjoyed how I could shape my studies into the directions I wanted. In my professional career I have also ended up building my own path by listening to my passion.
In few short years, diversity has taken a leap forward. Ikegwuonu remembers having meetings with customers early in her career where she noticed that she was demonstrating her expertise twice as hard as a recently graduated woman with an ethnic background. She notices that attitudes have now changed.
– In my estimation, English becoming more common, increased diversity in Finland and the desire to add diversity to work communities have been big changes. I strongly believe that in addition to differing competency backgrounds, winning teams also contain different personalities that complement each other.
Ikegwuonu considers the role of management to be crucial in increasing diversity. When recruiting new talent, thought must be put into the functionality and diversity of the team. It is also important to listen to the views of employees and be able to respond to feedback.
If we are seeking change, the power of example trumps everything else.
– If we are seeking change, the power of example trumps everything else. Having women in management groups and positions of leadership, for example, sends a strong message. The most significant outwardly visible message is what the demography of the company looks like on the different levels of the organisation.
To make the tech sector attractive to more women, Ikegwuonu thinks that youths should be told in good time about all the possible employment opportunities the studies can lead to. She would also increase efforts to bring up more good examples of inspiring people who found their passion in technology.
– We must break the illusion that the tech sector is only intended for people who fit a specific mould. It can provide a lifelong career for anyone.