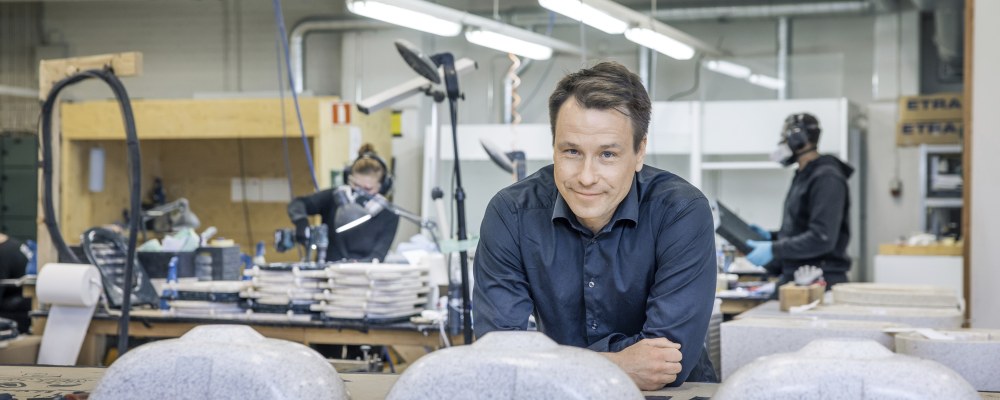 Petro Lahtinen, who holds a PhD in chemistry, founded Woodio to manufacture eye-catching bathroom fixtures from resin and wood chips, including bathtubs, washbasins and toilet bowls. They can now be found on the pages of design magazines, in the sanitary facilities of dozens of hotels and in the toilets of Helsinki Outlet.
My main motive was to become an entrepreneur and I was trying to decide what I wanted to do.
Lahtinen tells us that it all started from a university Christmas party in Kumpula, Helsinki, when Lahtinen and another researcher were drinking red wine in a lab.
"My friend was studying biodegradable plastic and I focused on wood chips. We mixed these materials in a coffee cup and later noticed that they produced something quite hard."
This something-quite-hard was further studied and tested to eventually produce a patented, non-swelling, waterproof solid wood composite, or the Woodio material.
Roughly 80 per cent of the material consists of wood and bio-based materials and the rest is resin.
"Can things be this easy?"
Chance also played a role in choosing bathroom fixtures as Woodio's specialty.
"My main motive was to become an entrepreneur and I was trying to decide what I wanted to do. I'd always been interested in construction and especially those before and after photos. The initial idea was to replace tiles with composites, but the tile business is a volume business and that would've required large investments."
Lahtinen founded Woodio in 2016 and the company launched its first products in 2018.
In the following year, the company received its first recognitions. The Design from Finland mark named Woodio the Design Deed of the Year at the Habitare trade fair, and the German Design Council awarded the company with the Design Plus by ISH award.
Lahtinen toured international fairs and also secured several deals.
"Can things really be this easy?" Lahtinen remembers thinking at the time.
But then COVID hit, the world shut down and global sales took a dive.
"Because of the pandemic, we focused on the Finnish market, but we are now turning our attention abroad once more. We focus on the upper segment, and the Finnish market will only take us so far. Our market is out there in the world."
Many believe in the future
Woodio's turnover has increased from 367 000 euros in the year before last to approximately 600 000 euros last year. The company has a staff of just over 30 people. The company has not made any profit, and its potentially profitable years still lie ahead.
"The brand and the products are still demo versions. In these facilities, we can reach a turnover of two million euros, and we are currently in the middle of a funding round. We need ten million euros to build a new factory. That would allow us to increase our turnover tenfold."
Lahtinen has also discussed cooperation and possible contract manufacturing with companies bigger than Woodio, but these plans have not progressed any further yet.
"If you haven't sold enough yourself, convincing others is difficult."
But many are convinced. The Paasikivi family of Oras own half of Woodio through their investment companies, Lehtinen owns a share of 25 per cent and the remaining shares are owned by Metsä Spring, the innovation company of Metsä Group, and a number of private investors.
"We have also received a lot of public support from Business Finland. In addition, the European Innovation Council has granted us an Accelerator grant of 7.5 million euros for building our new factory."
The story of Woodio is far from over, but the promise of better times to come is compelling.
"Aspen chips cost cents only, but a basin made from Woodio sells for hundreds of euros. We increase the added value of Finnish wood by 400 times."