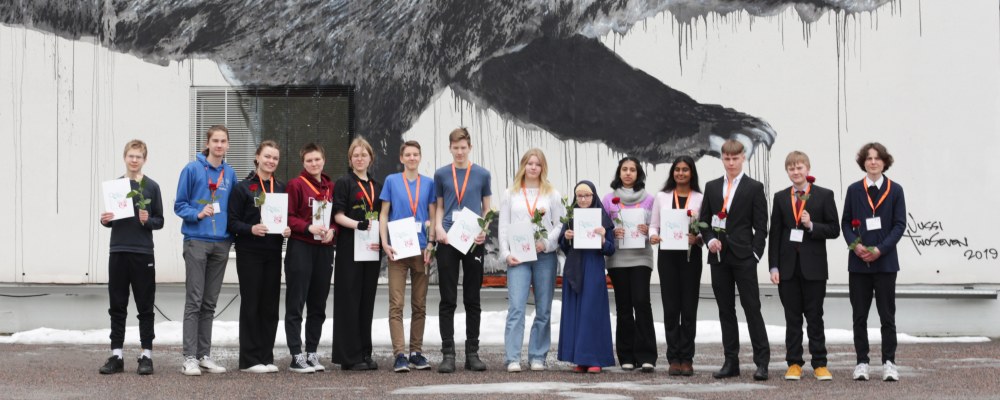 The best applied work of the TuKoKe Competition concerns textile waste and the best research project is about environmental health. The youths behind the projects, Elisa Jääskeläinen and Tanvi Nandikonda, were each awarded a thousand euros for winning the upper secondary school category. Furthermore, they get to represent Finland with their projects in The European Union Contest for Young Scientists (EUCYS) held in Brussels in September.
From the left in the picture above: Eevert Schildt, Topias Vakkilainen, Sandra Kari, Mimmi Haavisto, Anna Karppinen, Antton Kiuru, Marcus Anttila, Elina Jääskeläinen, Asiya Yousfi, Aruba Ghumman, Tanvi Nandikonda, Leo Lindström, Aleksi Mäkynen and Valeri Seppälä.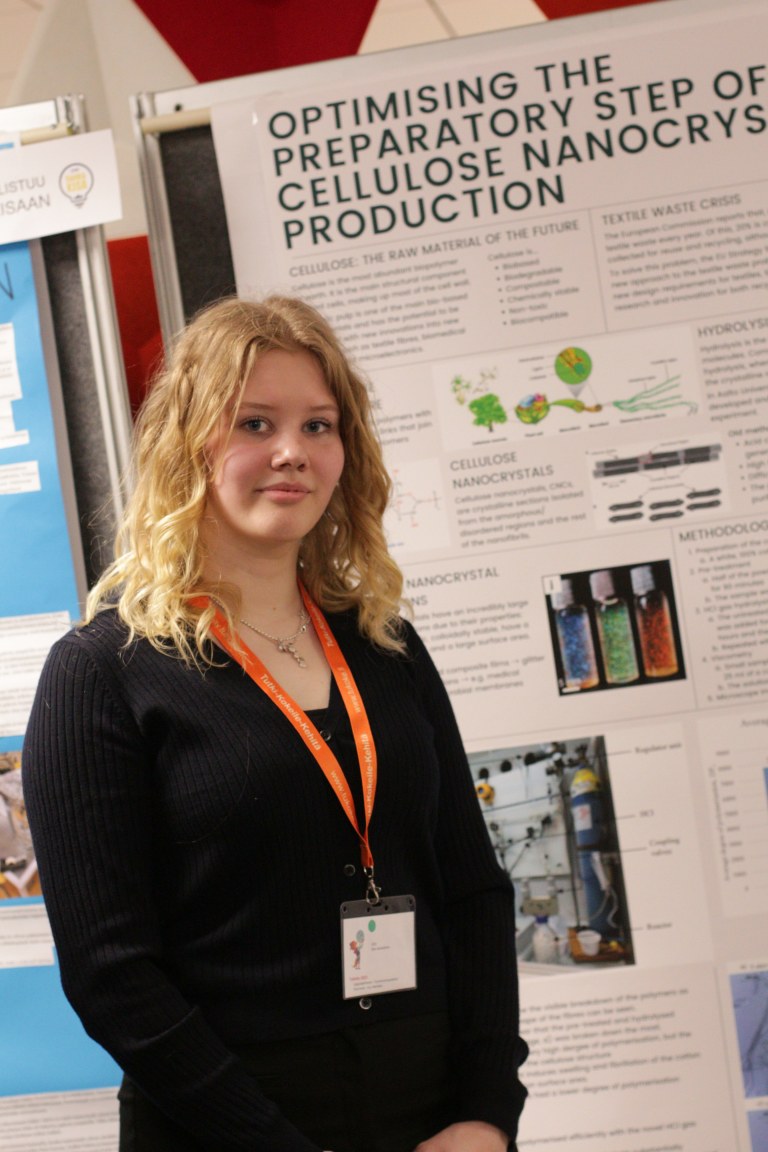 Elisa Jääskeläinen studied cotton cellulose in textile waste and the way it is processed using a new acid hydrolysis method developed by a research group from Aalto University. The project also delved into how the pre-processing of cotton affects the decomposition of cellulose.
– There is a need to develop the recycling methods for textile waste, she says.
Jääskeläinen is a senior student at Ressu upper secondary school in Helsinki. Her study is an extended essay required in her IB-programme. The project was supervised by Nelly Heiskanen.
Jääskeläinen got inspired about the TuKoKe competition after her teacher had spoken about it. She was already familiar with the competition as her brother is a previous participant. After upper secondary school, Jääskeläinen is aiming to study either industrial engineering or chemical technology at Aalto University.
Read more about Elisa Jääskeläinen's research project: Optimising the Preparatory Step of Cellulose Nanocrystal Production.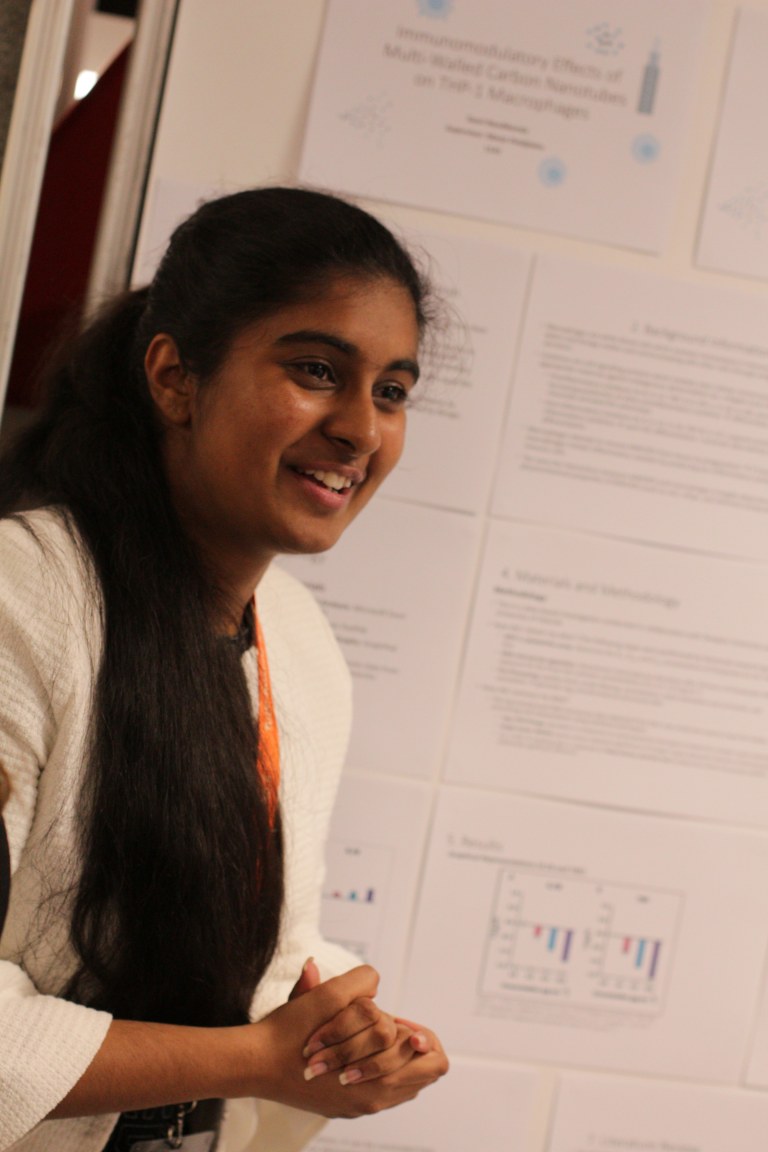 Tanvi Nandikonda studied the risks and effects multi-walled carbon nanotubes with low levels of cytotoxicity have on human health. Her project was realised in collaboration with Tampere University and GrecoLab. The work was supervised by Marjo Petäjäaho, Dario Greco, Veera Hautanen and Laura Saarimäki.
The idea to approach the project from the perspective of environmental health and her interest in human-environment interaction stem from Nandikonda's childhood. Her grandfather worked at a petrol station and was exposed to toxic fumes.
– Ever since my grandfather died of cancer, I have wanted to be a part of the solution that cures it, Nandikonda says.
She is a senior student on the IB-programme at Helsingin Suomalainen Yhteiskoulu and aims to become a student of medicine.
Read more about Tanvi Nandikonda's research project: Immunomodulatory Effects of Multi-Walled Carbon Nanotubes in Homo sapiens THP-1 Macrophages
Solar energy and a personal writing trainer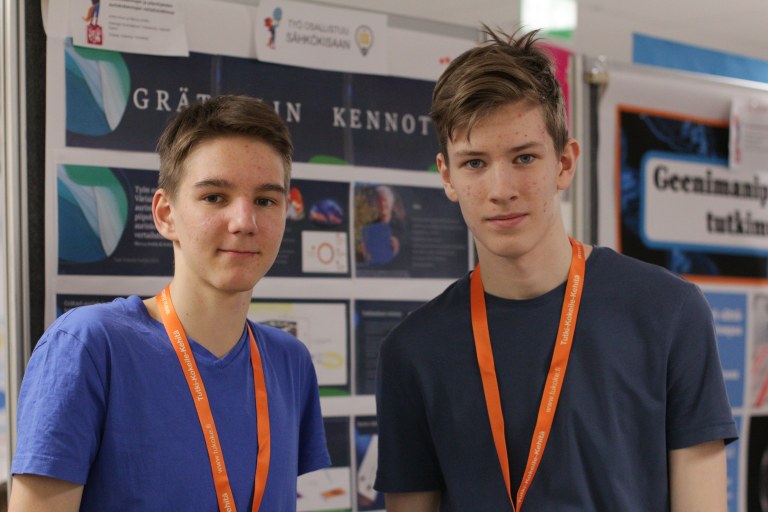 Antton Kiuru and Marcus Anttila from Helsingin Suomalainen Yhteiskoulu won the category for students in secondary sschool. The award is worth one thousand euros. In their research project they compared dye-sensitised and silicon-based solar cells. They built the dye-sensitised cells themselves. These were then compared with the silicon-based cell on the roof of their school.
The ninth graders Kiuru and Anttila conducted their research on an elective science course. The work was supervised by Katariina Yliheikkilä.
– We enjoyed doing the research, says Anttila.
Which problem would the duo like to see solved? Anttila thinks fusion power should be advanced. He would also like to become more familiar with the topic himself. Kiuru sees that solutions for storing energy and electricity should be developed further. 
– It would be extremely crucial for holding back the accelerated greenhouse effect and the detrimental impacts of climate change, he says.
Read more about Antton Kiuru's and Marcus Anttila's research project: Comparative Study of Dye-Sensitised and Silicon-Based Solar Cells (in Finnish)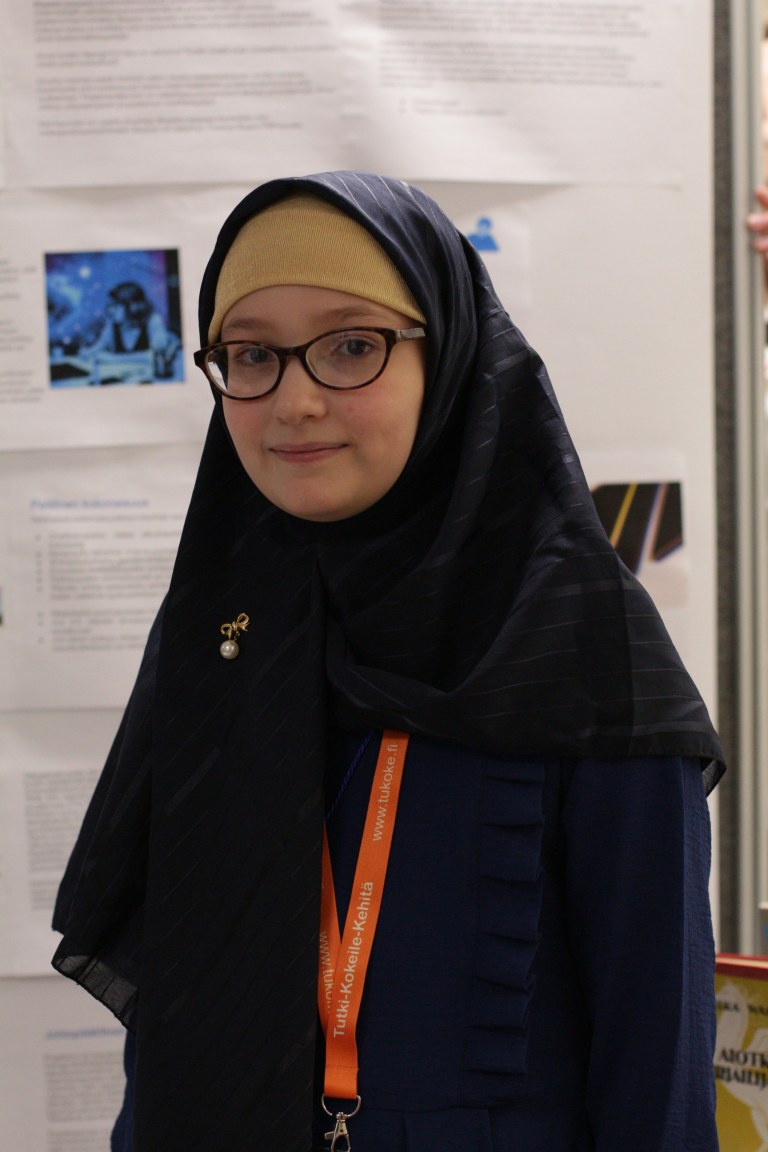 For Asiya Yousfi, this was already her third victory in the category for students in primary school, years 3–6, and she received a reward of one thousand euros for her efforts. This time her research project was something quite different. Whereas her first project focused on bladder wrack as a key species in the Baltic Sea and last year her project delved into the ecology of lakes, this time her subject was artificial intelligence. Yousfi came up with an idea for an AI-based app that supports users in their writing and helps with individual problems. The app named Tekipetrai is meant to inspire people to pick up writing as a hobby.
– I am interested in all fields of science. I wish to get to know the world. I had already heard the term artificial intelligence many times, but I could not settle for what I was hearing. I decided to find out about it, Yousfi says.
Yousfi is a sixth grader in Puistopolun peruskoulu in Helsinki, but she conducted the project at home on her free time. In the future, Yousfi would like to keep contributing to the strengthening of youths' reading and writing skills.
Read more about Asia Yousfi's research project: AI-based Personal Trainer for Writing Skills: Tekipetrai (in Finnish)
The youngest winners studied time and communication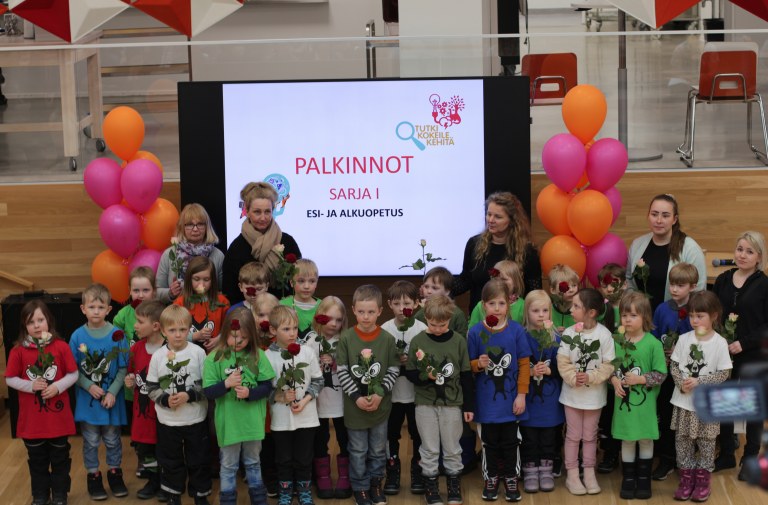 Two projects, or both of the finalists, shared victory in the category for children in early childhood education and years 1-2 in primary school. Both finalists were awarded 200 euros.
The preschool group of 26 children from Taipalsaaren Kirkonkylän koulu studied the topic of time. The topic was suggested by the children themselves. The work was supervised by Sanna Kolhonen, Tiia Kyllönen, Sonja Korhonen, Tiina Koivuranta and Kirsi Rehunen. The group conducted the work in cooperation with Lappeenranta University of Technology.
Together with the group from Taipalsaari, the victory was shared by Sampo Olenius and Eero Hätönen from Laajalahden koulu in Espoo. The two friends studied the best way to deliver a message to one's neighbour. Their work was supervised by Soile Hanttu.
TuKoKe (Tutki-Kokeile-Kehitä)
is a science, technology and invention competition for 4- to 20-year-olds.
The annual competition is organised by Development Centre Opinkirjo and Academic Engineers and Architects in Finland TEK. The competition collaborates with the STEK Electricity Competition.
This year the final of the competition was held on 5–6 April in Otaniemen lukio upper secondary school in Espoo. 36 different projects and their 110 researchers from all over Finland competed in four age categories. The finalist projects can be found on the competition's website: www.tukoke.fi
Here you can find all youths awarded in the TuKoKe Competition.