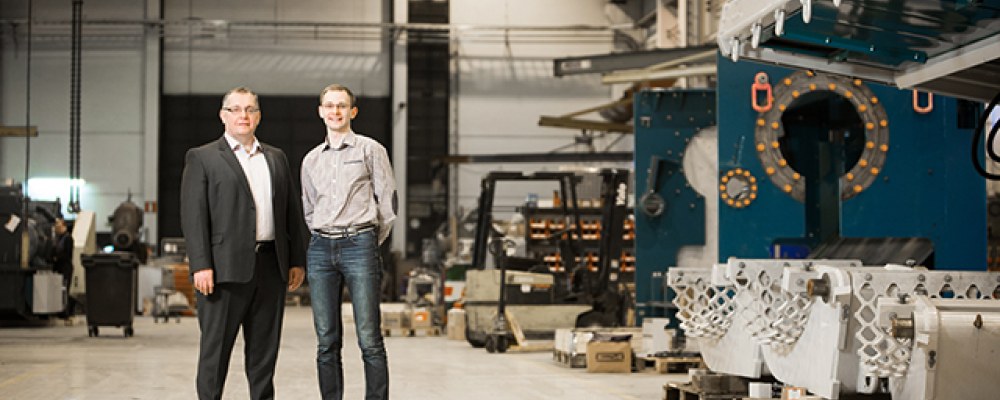 Hundreds of experts with foreign backgrounds graduate from Finnish universities of technology every year. Robit from Lempäälä and BHM Technology from Rauma share their views on why companies should hire these international talents.
A yellow industrial robot is making new bits for rock drilling at a swift pace at the Robit factory in Lempäälä. Bits similar to these might be used for drilling rocky soil in Northern Africa one day.
Export manager Taha Laissaoui has just returned from a business trip to Sudan.
– I was on the lookout for new business opportunities. I met some interesting people and attended Sudan's first mining fair. There is a lot of potential but little competition is Sudan.
Laissaoui is from Morocco, and he has been travelling around Northern Africa for two years now. He is responsible for Robit's customers in Northern Africa. In two weeks, he will be heading to Ghana.
Laissaou's native language is Arabic, in addition to which he is fluent in four other languages. His Finnish also keeps improving constantly.
– Travelling to Northern Africa and being able to speak my native language makes me feel instantly at home. It's easier for our customers when they can do business with us in their own language. I can help them and we can agree on things in Arabic. This builds the customers' trust in the company.

'80s-style export activities are not enough
"We need to hire someone who does not speak Finnish," Harri Sjöholm, Chairman of the Board and Founder of Robit thought 15 years ago.
During his career, Sjöholm had learned what it takes for SMEs to become international. It all begins with the right kind of corporate culture.
– If the culture is not international at the head office, the business can never be truly international.
– In the 80s–90s, companies practised 'export activities', which basically meant attending a trade fair in Germany once every few months. Operating in today's global economy is a whole other matter.
Presently, about one in ten Robit employees working in Finland hold a passport of another country. Today, there are four employees of foreign origin at the head office, in addition to the three who are currently on assignment abroad. Nearly all the international employees are sales engineers.
Sjöholm points out that the strength of international employees does not lie in numbers, but in the way they change the mindset at the company. The working language has been English at Robit for some time now.
– Importantly, the overall mindset of our organisation has become more international. This ensures that everyone understands the global nature of today's business.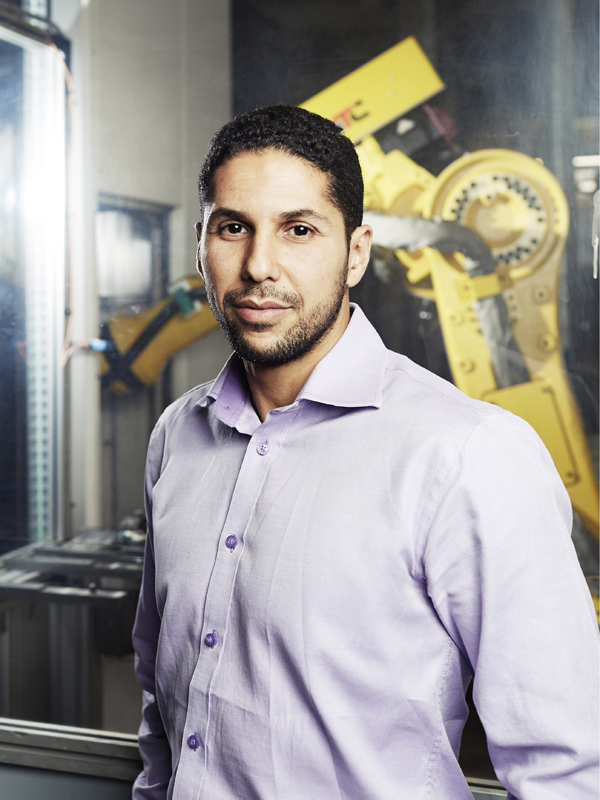 Employers' should give a chance for the foreign masters' to show their skills. A good way for this are all the different internship programs, Taha Laissaoui

Growth rate of 23 per cent
What kind of a role have the foreign employees played in Robit's success?
– A crucial one. Growth potential is global, and the only way to tap into this potential is to have an international mindset and ways of working, Sjöholm points out.
Robit, a manufacturer of high quality top hammer products for rock drilling and casing systems for ground drilling, has grown at a staggering pace in recent years.
According to Sjöholm's calculations, the company's turnover has grown by an average of 23 per cent every year. In 2015, Robit's turnover was EUR 45 million, and the company had 136 employees worldwide.
Robit has eight subsidiaries, and its products are used in 115 countries. A key element of Robit's success are local employees working at the subsidiaries or employees who speak the local language.
Jorge Leal, a graduate of Tampere University of Technology (TUT), is one of them. He works as an export manager in Peru, and he is responsible for Latin American sales. He used to live in Tampere before his current assignment.
– It's paramount to be fluent in the local language, because in Latin America, for example, English is not really used as a working language. Having the same cultural background helps me understand the customers better.

Let's not be fools
Surveys reveal that not everyone thinks like the successful company in Lempäälä.
Two out of three academically educated Finnish technology graduates are in an employment relationship at the time of graduation, as compared with only every fourth of foreign citizens. This is evident from the results of a survey conducted by TEK and universities in the field in 2014.
A total of 2,700 students graduate from technical universities annually, and about one in four has a foreign background.
Reasons for the poor employment rate of foreign recent graduates are insufficient work experience and working life contacts, poor language skills and the lack of local networks.
– It is foolish not to utilise this competence. We provide academic education for foreign experts and we must be able to pave their way into Finnish working life. Otherwise their expertise is not utilised in companies and more widely in society, says Director Jari Jokinen, who is responsible for TEK's labour market and education policy.
Although Laissaoui and Leal are skilled employees who could help Finnish companies grow, their path to employment has been nothing but paved.
Laissaoui came to Finland in 2003 with his Finnish wife. He had studied transport and seafaring in Spain before his arrival to Finland. He also completed a two-year master's degree in Liverpool,
but returned to Finland after graduation.
– A mixture of education in technology and commerce, he describes his training.
At first, Laissaoui thought it would be easy to find a job with his educational background and experience. However, he realised that it takes more than that. Sometimes, he literally had to knock on doors.
– I soon discovered the importance of networking. I met new people and my professional network grew little by little. I even visited some companies personally, presented myself and submitted my application face to face.
Laissaoui has also completed supplementary studies in Finland.
– I noticed that Finnish employers place more value on Finnish degrees than on international ones. Thus, studying at an open university alongside job-seeking can be a smart move, Laissaoui says, referring to his studies at the Tampere University of Applied Sciences and Haaga-Helia University of Applied Sciences.
Open university studies opened the door to Robit for Laissaoui.
– Robit hired me after a five-month internship. As an intern, I could demonstrate my skills, which built the employer's trust in me.
Sometimes, it takes chance and good timing to find a job.
Leal was still a student at TUT when he first contacted Robit, asking the company if he could write his thesis for them. He had no luck on the first try, but he received an important phone call after graduation.
– Two years later, Robit offered me a job, says Leal, who has now worked at Robit for almost five years.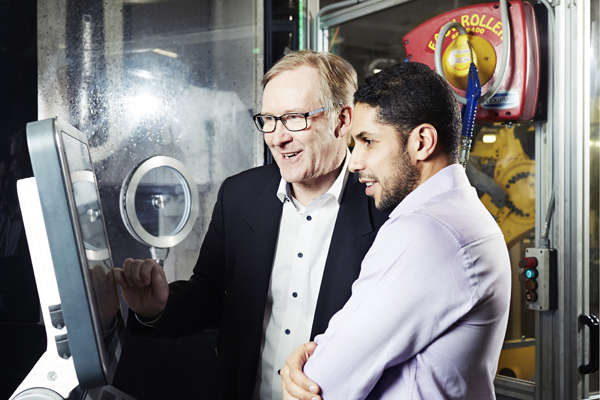 Robit invests in building a communal corporate culture. – We take our employees' backgrounds and cultures flexibly into account. For example, if an employee from South Africa wants to take their holiday during the South African holiday season, we allow them to do so, Harri Sjöholm says.

More cooperation between companies and universities
According to a survey by TEK, 70 per cent of students in technology with foreign backgrounds would like to stay and work in Finland. However, few of them find work in Finland.
Closer cooperation between companies and universities could be one of the ways to solve this problem. Gaining work experience during studies can facilitate the employment of recent graduates.
– Why not?, Polish project engineer Stanisław Szczeciński asked himself four years ago.
Szczeciński was looking for a destination country for his student exchange, and someone recommended Finland to him. He made an important decision just five days into his stay in Jyväskylä.
Szczeciński was also interested in the Erasmus internship programme, and the coordinator advised him to contact Hannu Lepomäki, Vice President, Technology at BMH Technology Oy. The company had Polish references and projects and a sales company in Poland, which made them interested in hiring Polish talent.
In summer 2012, Szczeciński started his internship at the company's office in Rauma, and continued the cooperation by writing his bachelor's thesis for the company.
– I wanted to complete also my master's abroad. At first, he thought about going to Germany, but Hannu recommended Tampere to him.
Eventually, Szczeciński chose Tampere University of Technology. He graduated from the degree programme in Business and Technology last year.
– Studying in Tampere was as I'd expected it to be. We collaborated with businesses a lot. – The degree is wide in scope, which provides graduates with good possibilities for finding jobs.
After the first summer and the thesis, BMH Technology hired Szczeciński as a project engineer.
– It was not only good luck, I was active and showed initiative. For example, during my studies, I participated in the Talent Tampere mentoring programme and Twinkle networking event. I also considered making a Demola project.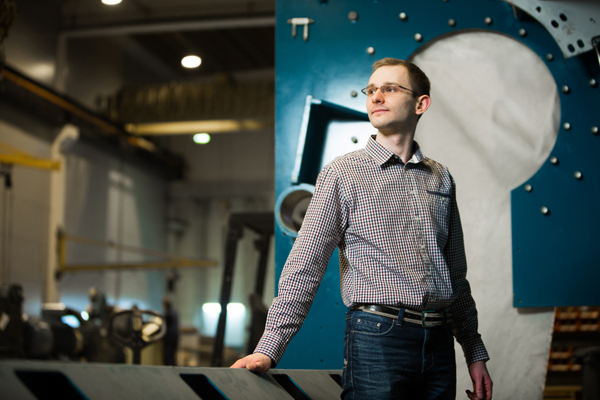 Stanisław Szczeciński knows that being a native speaker and an expert in one's own culture is the major competitive advantage a foreign academic professional can have in the Finnish labour market.
Smoother projects
BMH Technology operates in the famous cleantech sector, providing power plants with handling systems for turning wood biomass into fuel. The company's offering also includes so-called SRF production plants that use solid recovered fuel technology.
At least two-thirds of the company's revenue of EUR 54 million comes from abroad.
– Having a native speaker in the project management team is highly useful, because sales and delivery projects can last for years. He has made our projects run more smoothly, Lepomäki says.
Szczeciński agrees.
– It's good to have someone who speaks the customer's language at the head office, even if the company would have a branch office in the country, too. This facilitates communication.
At first, Szczeciński was hired to strengthen communication between the company's office in Poland and the Polish customers. Since then, his tasks have become more varied.
– I am involved in a project that seeks to harmonise and enhance the surface treatment of equipment. We develop services for all parties, including Polish suppliers. I am also filling in for one of our project managers in an ongoing project.
Szczeciński is the third employee with a foreign background at BMH Technology's office in Rauma in four years. Lepomäki would like to see the Rauma office become even more international in the future. The total number of employees is around one hundred.
– Our experiences have been immensely positive. We certainly want to take this practice further. The only downside is that the other two international employees had to leave Finland for family reasons.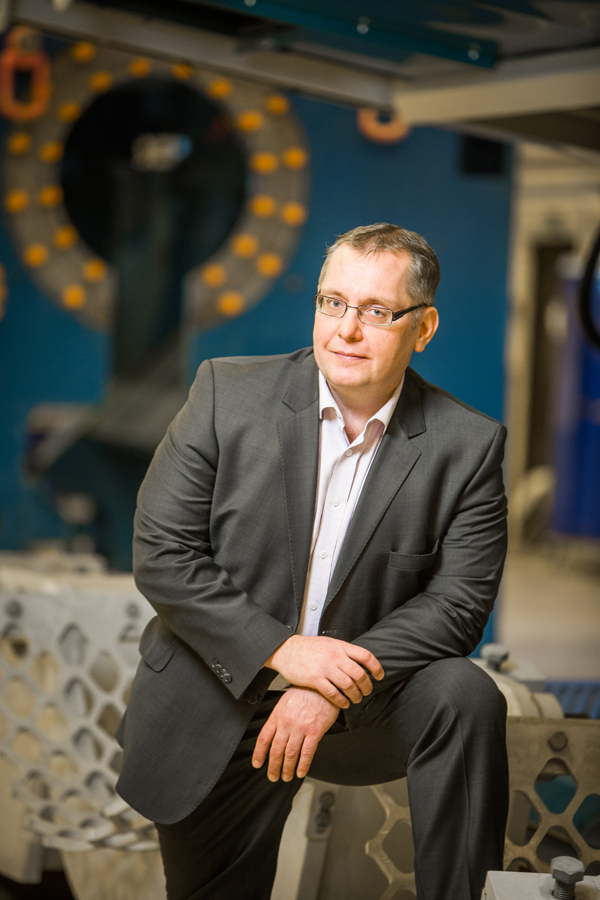 Hannu Lepomäki thinks close cooperation with higher educational institutes is a good way to discover international experts. BMH Technology has recently opened its own office at the Campus Arena of Tampere University of Technology.

Strict language requirements hinder employment
We require fluent Finnish (that's the exact saying). This sentence is well-known to many foreign university graduates in Finland. Szczeciński studies Finnish three times a week, but is still far from being able to work in Finnish.
– Strict language requirements act as a barrier to the companies, who miss on new experiences and different operating methods.
Szczeciński points out that in addition to cultural and linguistic competencies, foreign employees can benefit companies by making them interrogate their old ways of working.
– I have been in Finland for three years, but I still see things from a slightly different perspective. I ask funny questions and might even challenge habitual ways of doing things.
Often, the Finnish language requirement is almost like an old habit. Szczeciński gives a story about his classmate as an example. The international student applied for a job despite the strict language requirement given in the job advertisement. The applicant did not speak any Finnish, but got the job nonetheless.
– After the second round of interviews, the company realised that actually, Finnish was not needed on the job.

Finnish working life attracts talent
Finnish employees in expert positions take low hierarchies and independent work for granted, whereas employees from other countries might find these features new and exciting.
– We let new employees work on challenging tasks right away. This and the opportunity to work independently in a low-hierarchy organisation are something few foreign employees are familiar with. Finns sometimes struggle to understand this, Hannu Lepomäki says.
The thing that took Stanisław Szczeciński most by surprise at his new workplace was equality.
– I was respected and treated as a fully-fledged employee since day one, although I was still a student.
Flexible working hours and the opportunity to have an influence were also positive sides.
– Communication between the management and employees is smooth here. For example, they listen to our product development ideas and take them seriously. This improves the employees' well-being and productivity, Taha Laissaoui says.
Employer's checklist:
Be open-minded when hiring employees and trainees—a perfect command of Finnish is not always needed.
Utilise the linguistic and cultural competencies and existing networks of foreign employees in the target market.
Cooperate with universities. Hire international students as thesis trainees and act as a mentor to them.
International corporate culture is the key to success in today's global economy. Use foreign workforce to make your corporate culture international.
Checklist for international students:
Gain work experience during your studies. You will not get a job in Finland with mere study certificates.
Focus on the benefits you could offer to the company.
Network. Join clubs and guilds and participate in mentoring, collaborative projects with businesses and different events.
Study Finnish language and culture.
TEK promotes the employment of foreign recent graduates
TEK and its partner associations—such as the Federation of Finnish Technology Industries—hired Niko Ferm to map out ways of increasing the employment rate of foreign recent graduates in Finland.
TEK supports the Findwork.fi campaign, which brings together students or recently graduated international experts and Finnish companies looking for international success. Read more at www.findwork.fi
Academic Engineers and Architects in Finland - TEK and The Finnish Business School Graduates are organizing for all the international members networking event on the 28th of April. More information and registration can be found online www.tek.fi/pre-wappu.