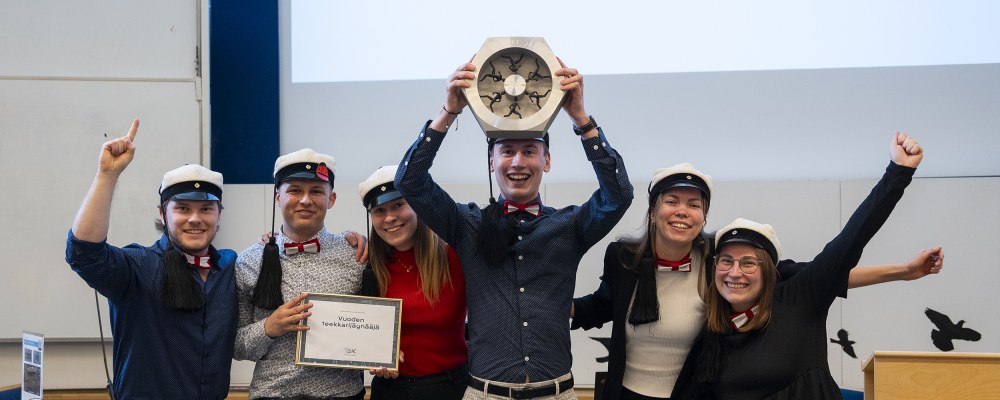 The winner of the National Jäynä Competition organised by the Academic Engineers and Architects in Finland TEK is the Tampere Teekkari Section. Organised now for the 31st time, the Jäynä Finals took place 9–10 October in Salo.
The winning team interviewed people and asked them what sounds they think different electric cars should make in traffic to improve safety. Suggestions ranged from the regular sound of a combustion engine car all the way to the howling of a wolf.
Captain of the winning team Wilhelm Tcheng says that the team was naturally hoping to win, but after seeing the Jäynäs of the other teams, they felt nervous about the outcome.
"It feels incredible to win, because the other teams put up a really good fight. Everyone put a lot of effort into their Jäynäs and worked hard."
The team members say that they wanted to plan a Jäynä about a current topic that would resonate with people. They wanted a fun Jäynä that many people could easily take part in.
In addition to the team from Tampere, teams from Oulu, Vaasa, Lappeenranta, Turku and Espoo made it to the National Competition. All the teams had also organised a preliminary Jäynä specifically for the competition. Check out the videos via the links below.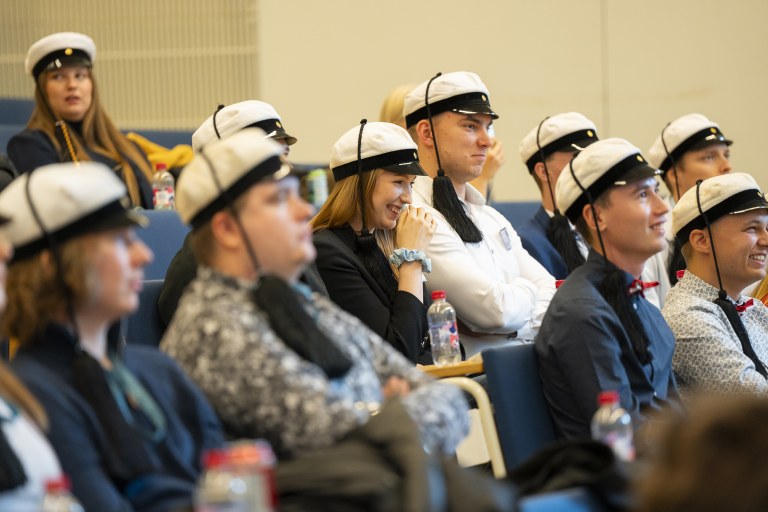 The Jäynä Gala, an event where the teams' videos of their Jäynäs are watched and the winners announced, was organised at the University of Turku on the day after the competition. In addition to the award for the best Jäynä of the year, three other awards were given. 
In a public vote in the Tekniikka&Talous magazine, the audience favourite among the preliminary Jäynäs was the one by the team Otaniemen Martiisikäet. The award for the most technical Jäynä went to the same team. The fastest team to decipher the driving instructions to the city hosting the competition was team Nugetit from Turku, which was also the only team to solve the instructions. 
Lappeenranta – Oy Jäynämiehet Ab
Robert Hämäläinen, Francois Pakkanen, Markus Lappalainen, Samuli Kantola, Otto Pesonen, Juuso Varvemaa, Erkka Sorvali, Tuukka Inkilä
Check out the jäynä
Otaniemi – Martiisikäet
Salomon Koivisto, Aaro Niini, Tomas Capiten, Tia-Mari Tynninen, Juho Latukka, Eetu Paavola
Check out the jäynä
Oulu – Jäynä Jäynäset
Tiitu-Lotta Paju, Niklas Pikkarainen, Noora Lyytinen, Ilari Pirilä, Sanni Haataja, Jaakko Myllymäki
Check out the jäynä
Tampere – Tampereen Teekkarijaosto
Wilhelm Tcheng, Olli Niemi, Mette Nygård, Kiti Suupohja, Katriina Jääskö, Niilo Jaakkola, Olavi Latukka, Sara Nieminen
Check out the jäynä
Turku – Nugetit
Stella von Plato, Inkeri Mentula, Sanni Uusitupa, Tiila Peurala, Eveliina Saarto
Check out the jäynä
Vaasa – Tutti ry:n konsultit
Atte Nummila, Jalmari Mattila, Matias Mäkelä, Vilja Viertola
Check out the jäynä