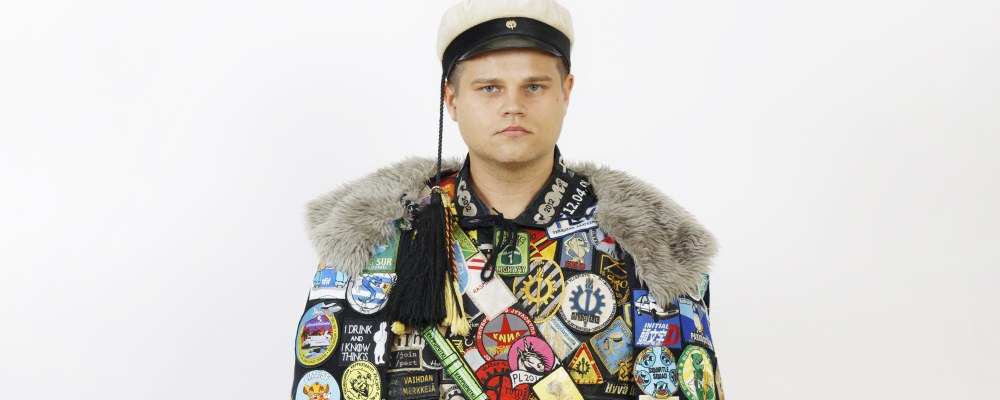 Matti "Vähis" Vähä-Heikkilä's student overalls have 1 200 – 1 300 patches on them. If one patch costs at least two euros, he would have spent at least 2 400 euros altogether on all his patches.
"It's my most expensive piece of clothing! Quite a few of the patches are from various events, so the evenings have usually cost me more than a couple euros," says Vähä-Heikkilä.
In addition to money, Vähä-Heikkilä has spent a considerable amount of time on his overalls. He has sewn each patch onto the overalls himself. Depending on the patch and its position, he has spent about twenty minutes per patch on sewing. That means more than four hundred hours in total.
"I really should add this sewing experience to my CV! I first learned the skill at university, and still find it useful today. I use my clothes until they wear out, and if there's a tear, I mend it. I've learned some durable sewing techniques, because you need them with hard-wearing overalls."
The number of patches, their combined price and the time spent sewing them are some of the things that Vähä-Heikkilä is often asked about. When he walked around in his overalls as a student, getting from place to place would always take a long time, because strangers would stop him to talk about his overalls.
"People felt a kind of admiration mixed with horror at the sight of my overalls. Or at least that's what I like to think. I was a well-known figure in the student community: the overalls guy. That affected my identity."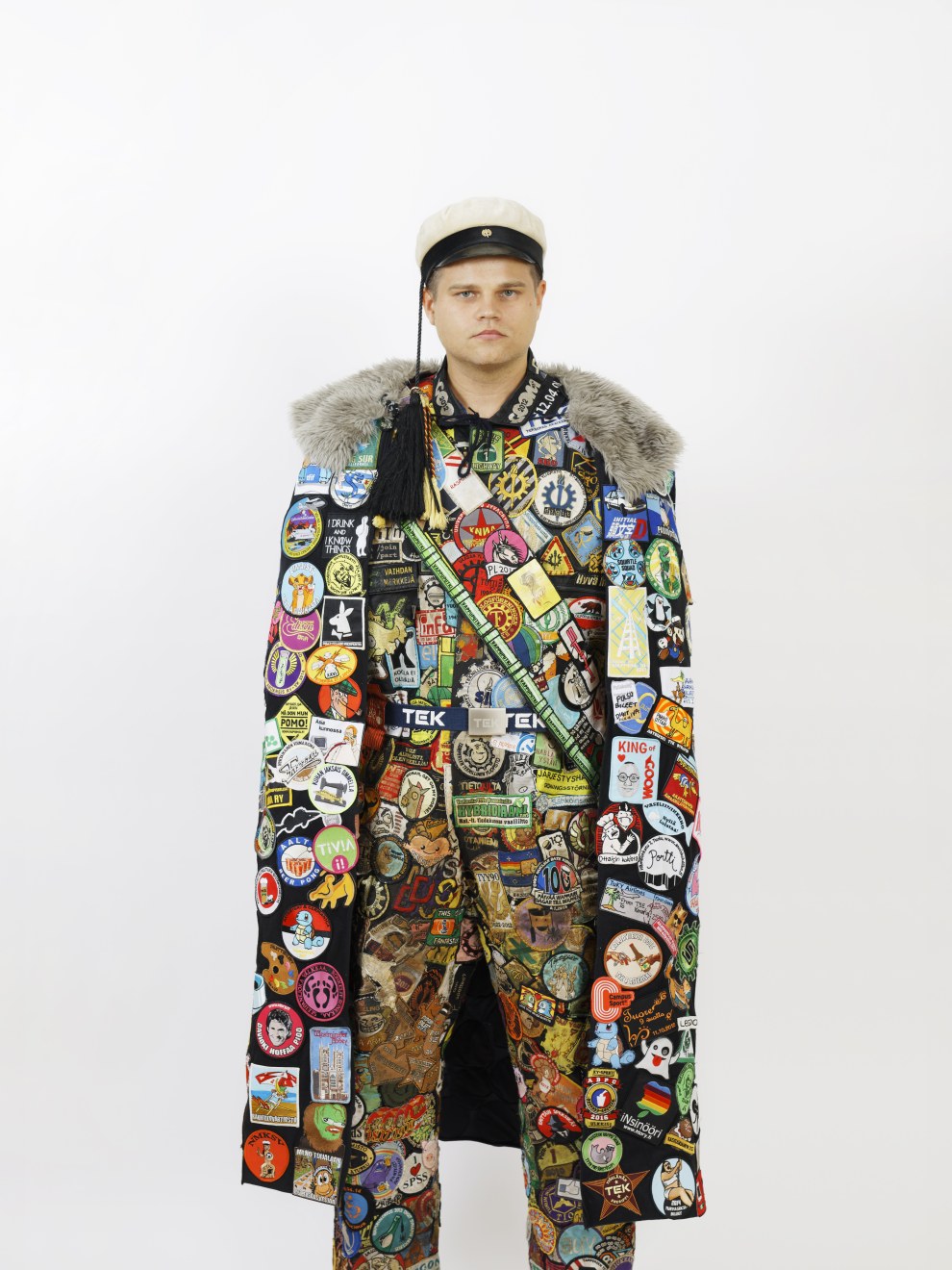 Matti Vähä-Heikkilä has spent more than four hundred hours sewing patches on his overalls. He has 1 200 – 1 300 patches in all.
Vähä-Heikkilä started studying information technology at the University of Turku in 2009 and studied for just under seven years. For him, the overalls symbolize a particular stage in life. The last time he wore the overalls "in action" was in Tampere in the World Championships of Academic kyykkä in 2019. Since August 2022, Vähä-Heikkilä's overalls have been on display at the museum in Vanhalinna, Lieto, as part of the 100th anniversary exhibition of the Student Union of the University of Turku.
Lessons from the guild sewing club
Matti Vähä-Heikkilä did not have to think twice about buying the black student overalls of his guild Digit ry. For him, the overalls signified belonging to a group, much like team shirts in sports.
"I also saw it as protective clothing in which I could be myself and with which I could also express myself. When people met me, they would first look at my overalls."
There were some delivery issues with the overalls, so instead of autumn, Vähä-Heikkilä's class did not receive theirs until February 2010 of their fresher year. Students studying other majors were wearing their overalls already, but the first-year students of Digit walked around in jeans.
When Vähä-Heikkilä finally received his long-awaited overalls, he already had a hundred patches waiting to be sewn on. He got excited about patches at the start of his first year as a student. Vähä-Heikkilä's tutor shared some tips on how to sew the patches on. They were the sewing supervisor of Digit's MS-DOS Sewing Club. The idea of the club was to make patch sewing a communal experience for students. Vähä-Heikkilä went on to run the club for about three years.
Already in his second year of studies, Vähä-Heikkilä's overalls had so many patches on them that people thought he was a much older scholar.
"Once I was walking along Kauppiaskatu in the centre of Turku, wearing my overalls. A law student walked towards us and started shouting at me and my friend: 'Just graduate already!' That made me proud and gave me more motivation to collect patches."
Vähä-Heikkilä began to understand the power that came with owning enough patches to trade. He started designing and ordering his own patches. His favourite patch is still the symbol of his guild: a patch with a torch and cog, which you are supposed to sew on the left side of your chest. 
"That was the first patch I sewed onto my overalls. And I haven't sewn anything on top of it either."
That is an important observation, because there are no empty spaces left on Vähä-Heikkilä's overalls. It is even difficult to make out the black colour of the overalls underneath all the patches. When he ran out of space, Vähä-Heikkilä came up with some creative solutions. First, he sewed patches on the inside of the collar – they could be seen when the top part of the overalls was open. Then, he sewed patches inside the back section. They were visible when Vähä-Heikkilä let the top part of his overalls hang all the way down. In the end, he had no choice but to get some extra accessories for his overalls.
The first accessory was a sash worn across the chest and made from the same fabric as the overalls. It could hold 200 patches. The next step was a cape, for which Vähä-Heikkilä ordered a fur collar. It made the cape more festive.
Presumably the largest collection of overall patches in Finland is owned by Matti Änkö in Otaniemi. On May Day 2019, Iltalehti reported that he has about 7 000 patches.
"We've met and compared our collections," says Vähä-Heikkilä.
Tips from Vähis for sewing overall patches
If the shape of the patch is tricky or it's made from thin, bendy material, you should first glue it onto the overalls with a few drops of glue or pin it in place using several regular or safety pins before you start sewing.
Get strong, high-quality thread for sewing. Thread that doesn't get tangled too easily. I myself have a big spool of extra strong sewing thread.
Tie fail-safe knots in between, fastening off the thread in three or four different places. This will prevent the patch from falling off and getting lost, even if one corner is ripped loose.